GALLERY: Rorate Mass & blessing of crib
Archbishop Cushley blessed the new crib at St Mary's Cathedral last night (Monday 12 December) after a candlelit Rorate Mass.
The Mass was accompanied by beautiful music to help lift up hearts to God!
Afterwards, people gathered in Coffee Saints cafe for Mulled Wine and Mince Pies.
(Pics: Benedicta Lin).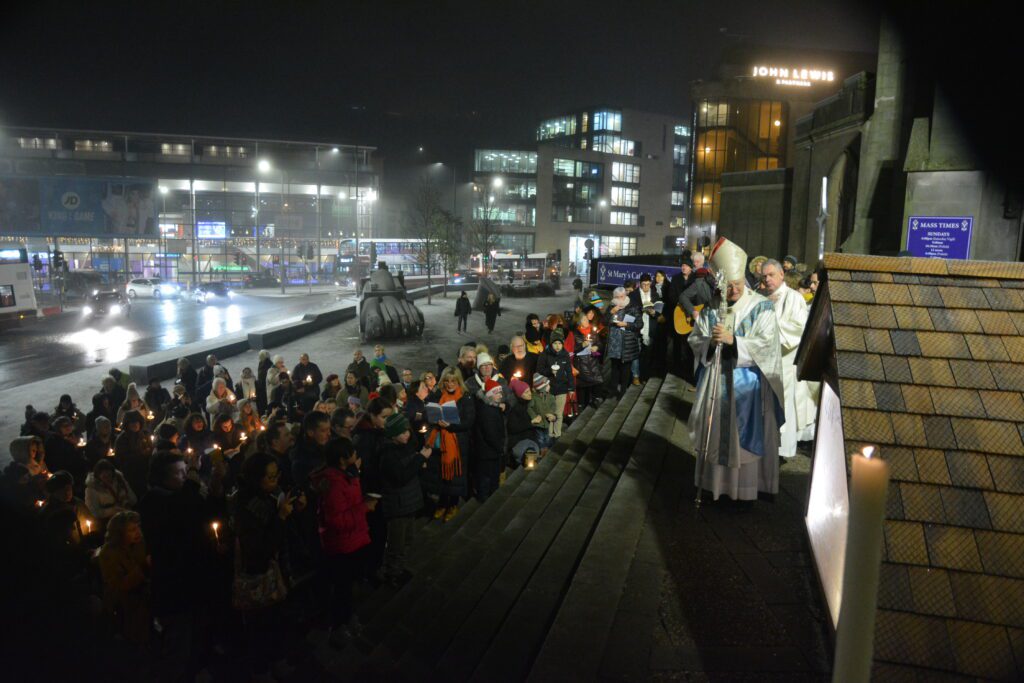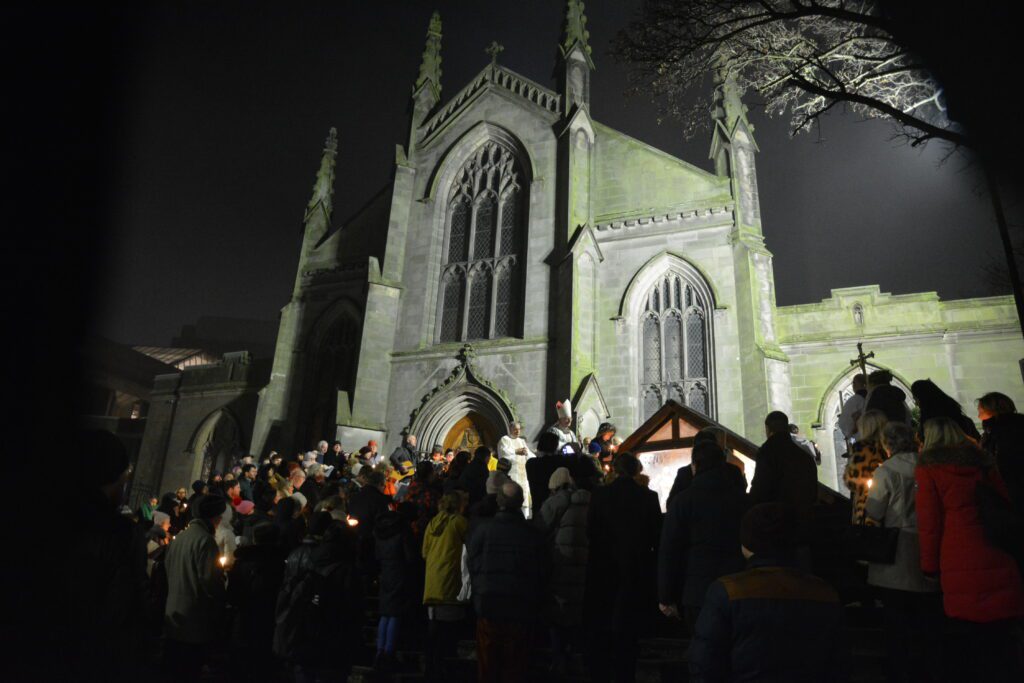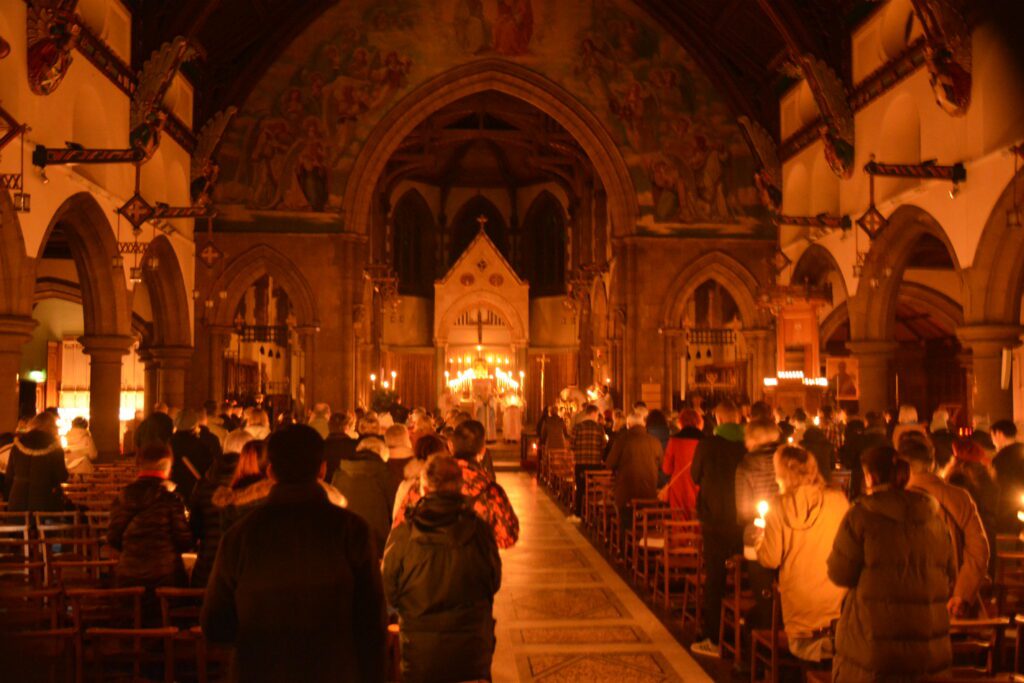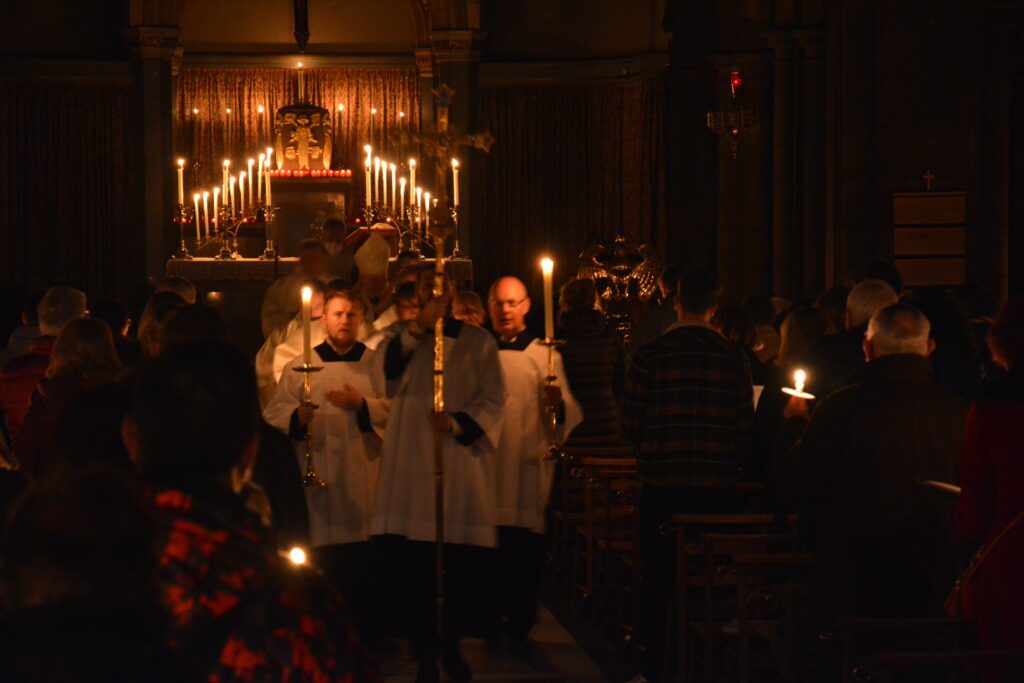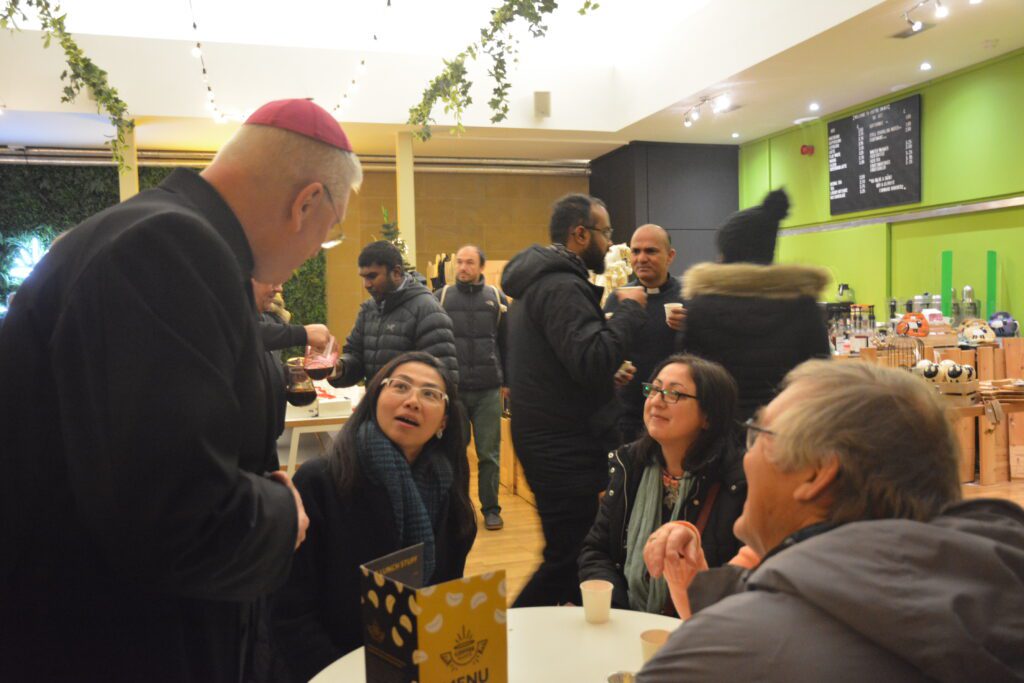 Listen: Schola Cantorum's debut album now online!
The impressive debut album from the Schola Cantorum of St Mary's Cathedral in Edinburgh is now available to listen to online.
'With Angels and Archangels' can be streamed on Apple Music, Amazon Music and Spotify after a CD release last year proved popular.
Michael Ferguson, Director of Music at the Cathedral, said: "The music was was recorded by our young and versatile quartet and is inspired by 800 years of sacred music and two millenia of Catholic worship.
"The celebration of Mass is at the very centre of our musical and spiritual life at the Cathedral so it's no coincidence that all the works on the album have at one moment or another formed part of the sounsdscape of our liturgies."
Rory Lamb, a member of the Schola Cantorum, said: "The album gives a chance to showcase a whole breadth of Catholic music and to show what the church has produced and is still producing and singing today."
Priest assaulted at St Mary's Cathedral
Yesterday morning (Monday 26 July) a priest sitting alone praying in a pew at St Mary's Cathedral in Edinburgh was subject to a violent and unprovoked assault by a man carrying a glass bottle.
Just prior to the attack the man had asked him if he was a priest. When the priest replied that he was, the man attempted to hit him on the head with the bottle, before chasing him to the back of the cathedral.
The bottle broke on the ground and the man continued using it in his assault. The priest managed to fend him off with a chair before the attacker ran out of the Cathedral. The priest escaped without injury.
Anyone with information is urged to call Police Scotland on 101, quoting incident number 0823 of Monday 26 July.
Fondly remembered: Joseph Gilhooley
Tributes have been made to Joseph Gilhooley, a "kind and generous" man who dedicated almost his entire adult life to St Mary's Cathedral in Edinburgh.
He served the Cathedral for some 49 years and was latterly MC and sacristan before ill-health prevented him from continuing a few years back. He died yesterday morning (Monday 11 May) aged 72.
Wojtek Gardela, current MC at the Cathedral, said: "Joseph was a very good-natured person, kind, generous and always ready to help others. He was also very playful and would be up to mischief, but putting a smile on people's faces!
"He dedicated his life to the Cathedral - every part of it will have Joseph live-on in its substance in some way.
"Sadly, he had been suffering dementia over the past few years. He'll be very much remembered and missed by the Cathedral community. Joseph leaves behind his twin sister Patricia, who always supported him."
At the time of his passing, Joseph, who was a parishioner at Holy Cross Parish, was resident at Ferryfield House care home in the city. One of the fond memories parishioners and clergy will recall was of him making cheese 'pieces' in the Cathedral kitchen, which used to be distributed to those in need after Mass.
Archbishop Leo Cushley said: "Joseph was a kind, gentle soul who was well loved by generations of parishioners at the Cathedral. He will be fondly remembered by so many people across Edinburgh and the wider Archdiocese. May he rest in peace."
Bishop Stephen Robson of Dunkeld Diocese, former Auxiliary Bishop for our archdiocese, said: "His attention to the Liturgy was legendary and his care for priests in the Cathedral House was always given with great generosity and kindness, but also with a great sense of fun - he was a great mimic of Mgr Grady, Mgr McQuillan and Cardinal Gray! He was a wonderful soul, full of love and service. God rest him."
Funeral arrangement are to be announced shortly.