Season of Creation begins today (Thursday 1 September) with World Day of Prayer for Creation.
This year's theme is Listen to the Voice of Creation and Pope Francis has called it "a season of increased prayer and effort on behalf of our common home".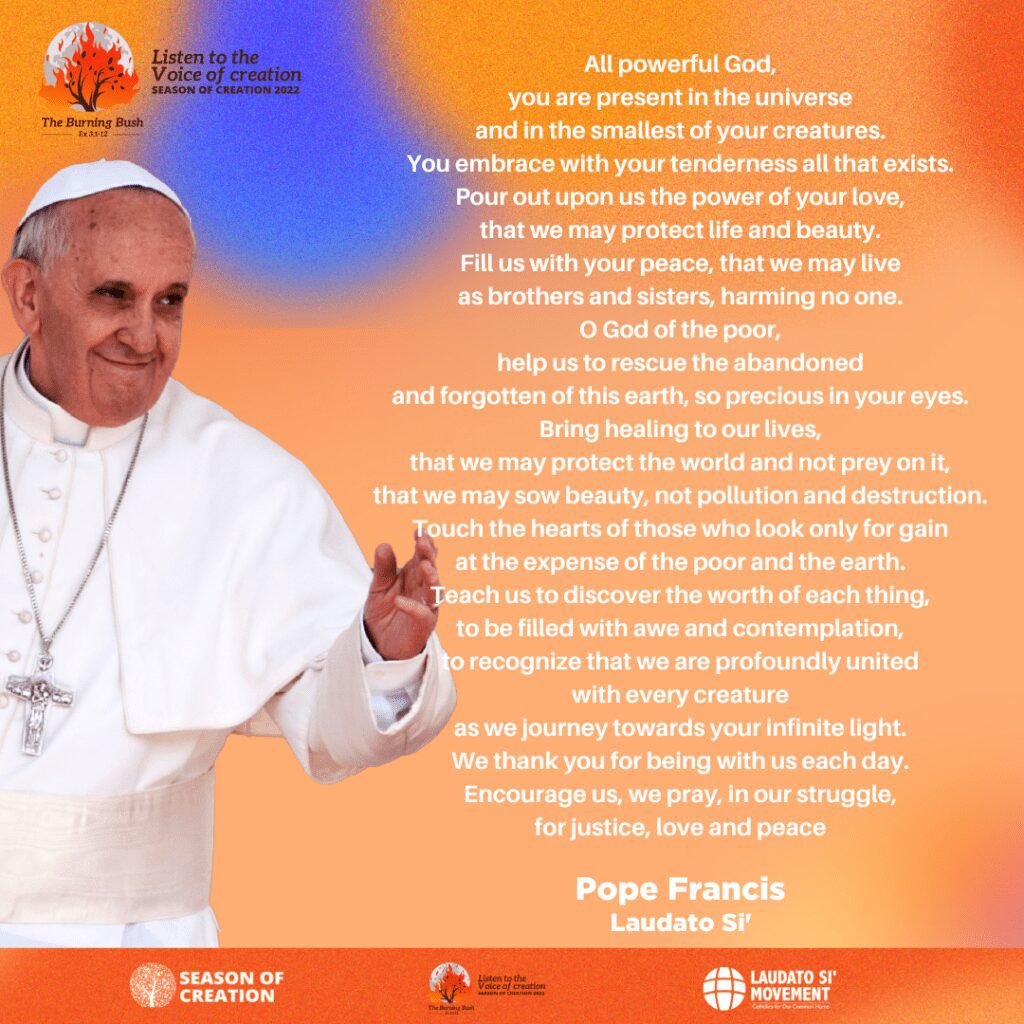 The Season of Creation ends on 4 October, the Feast of St Francis of Assisi, the patron saint of ecology.
"Listen to the voice of creation" is the theme and invitation of this year's Season of Creation from 1 September to 4 October. It is a special time for all Christians to pray and work together to care for our common home.https://t.co/GEsiGVxGsW

— Pope Francis (@Pontifex) July 21, 2022
Archbishop Cushley said: "As Christians we give thanks to God for his great gifts and recognise our modest place in all of creation and the responsibility of being stewards of all that has been entrusted to us.
"As we join the Holy Father in the Season of Creation 2022, let's give thanks for all God's blessings and let's take up our duties to our world and to each other, to the glory of God the creator."
🔥 Did you know that #SeasonOfCreation 2022 is getting closer?

💫 And, would you like to know who will be joining us at the opening event?

🧡 They're here 👇🏻 | Share this tweet so that all Catholics around the world will be united on September 01 🤩https://t.co/yemUxlhlHN pic.twitter.com/SVrRCXt6He

— Laudato Si' Movement (@LaudatoSiMvmt) August 22, 2022
Resources/events
'Integral Human Development' SCIAF workshops, Ss Ninian & Triduana church hall, Marionville Road, Edinburgh, 7:00pm-8:30pm on Tue 13 & Tue 27 September. To take part contact Carole Herbstritt on 07757 352433.
Season of Creation service at St Francis Xavier's Church, Falkirk, Sat 17 September, 12pm-1pm.
Season of Creation online talks, hosted by Scottish Laity Network. Click here for programme. Click here to register.
Message of Pope Francis for Season of Creation 2022. Click here.
Official Season of Creation Celebration Guide. Click here.
Resources for Sunday Mass. Click here.
Is your parish hosting an event for the Season of Creation? Let us know. Email the details to matthew.meade@staned.org.uk so we can share!
Visit seasonofcreation.org for more details. Read Pope Francis' encyclical Laudato Si' here.