Voting rights of religious representatives removed in Fife
Councillors at Fife Council today voted, by a margin of 36-32, to remove the voting rights of Church Representatives.
It means that the Catholic Representative Mary Caldwell will not have a vote in decisions affecting Catholic schools.
A spokesperson for the Archdiocese of St Andrews & Edinburgh said: "The Catholic community in Fife will be disappointed that Mary will no longer have a vote on decisions that impact our schools.
"It is estimated that around 2,000 people in Fife contacted councillors about this issue, asking them to support the Catholic community on this issue."
Accountable
Margaret Barton, Religious Advisor for the Archdiocese of St Andrews & Edinburgh, spoke to councillors at the meeting ahead of the vote.
She said: "As it is with yourselves, the Church Representative is accountable to the parents and families who choose Catholic schools.
"Like yourselves, Mary Caldwell's service to the community is at the core of her work.
"The representative for the Catholic Church speaks and votes on behalf of a significant community who, for various reasons, do not always get their views represented."
Voting for religious reps were agreed by current Fife Council councillors a year ago (June 2022).
Background
When the Catholic Church transferred its schools to state control in 1918, it was with the understanding that the state would work in partnership with the denomination in whose interest the schools were being run.
In 1929 the Churches were given statutory representation on education committees and that has remained to this day.
The Church Representative has been a key part of that historical, and present, legally mandated arrangement, ensuring that the trust which the Catholic Church placed in the state many years ago is reciprocated at local government level.
With 15 Catholic schools in Fife, they are educating a high percentage of the children and young people in this authority area and, therefore, impacting upon a significant percentage of those resident in Fife.
Thanks to the many people in Fife who contacted their councillors using our campaign postcards.
How they voted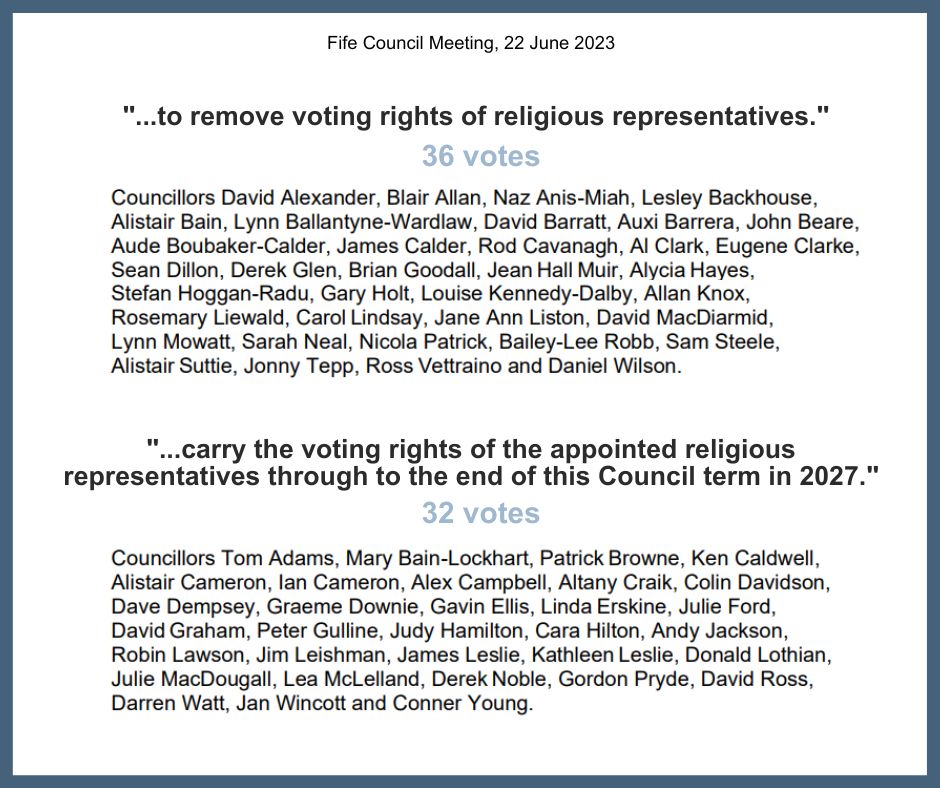 The minutes of the meeting can be found here.
Voting rights for Religious Representatives on Edinburgh City Council will be decided by councillors later in the year.