Scotland's Bishops have asked Catholics to pray for peace in Ukraine today (Wed 14 Sep), Feast of the Exultation of the Holy Cross and European Day of Prayer for Peace.
Bishop Hugh Gilbert, President of the Bishops' Conference of Scotland, said: "The Bishops of Scotland are one with the Ukrainian people in their suffering.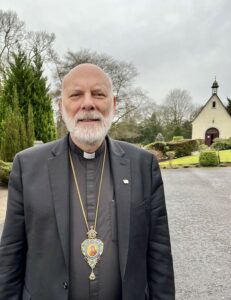 "Bishop Kenneth Nowakowski (pictured) who joined us at our meeting in March (main pic, top) at the beginning of the invasion of his country, has written a message for the people of Scotland to thank them for their support.
"He also asks for our prayers and has written a prayer for all of us to pray on the European Day of Prayer for Peace, Wednesday 14 September, the Feast of the Exaltation of the Cross."
He added: "May the Ukrainian people who share in the sufferings of our Lord, know that he bears the cross of their suffering with them and that the power of His Cross can turn hatred to love, and death to life.
"We invite all Catholics in Scotland, members of other Churches and other Faiths, and all people of good will to participate in this Day of Prayer in our parishes."
To view the prayers and message from Bishop Nowakowski click here (PDF). For a Word Version, click here.