Catholics across Scotland are looking forward to the return of public Mass, which can resume from tomorrow (Wednesday 15th July).
The Bishops' Conference of Scotland has today issued these guidelines to show what you can expect when attending Mass. Click on the following format to view and download - jpeg, pdf, Word.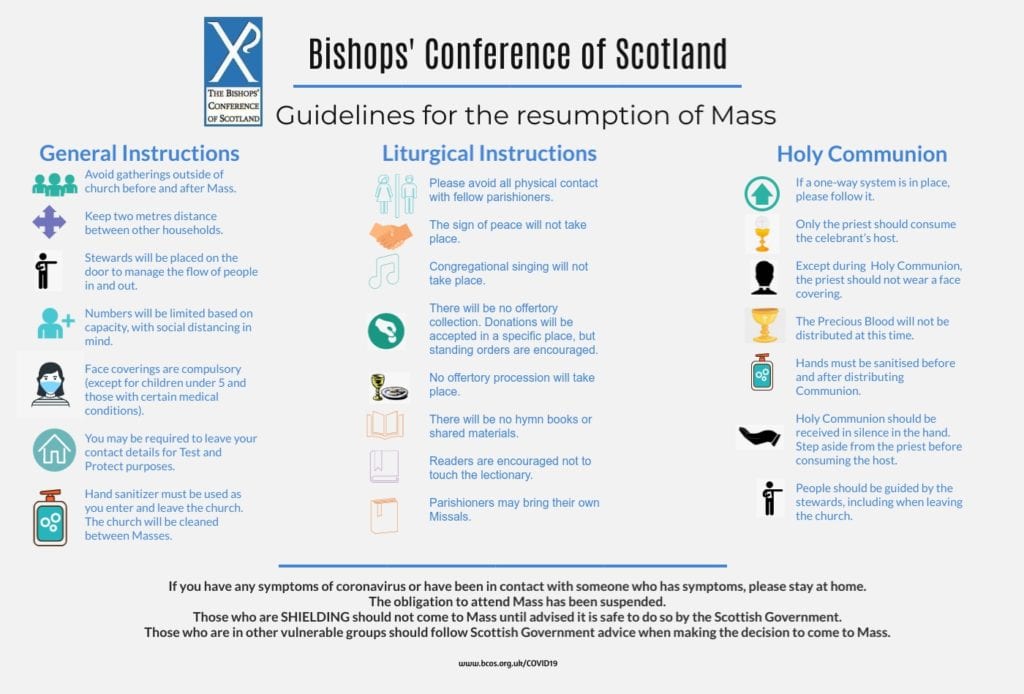 General Instructions
Avoid gatherings outside of church before and after Mass
Keep two metres' distance between you and other households
Steward will be available to help and guide you
Numbers will be limited based on social distancing/capacity
Face coverings compulsary (except for under 5s/those with certain medical conditions
You may be required to leave your contact details.
Please use hand sanitiser provided
Liturgical Instructions
Avoid physical contact with other parishioners
There will be no sign of peace
Congregational singing will not take place
There will be no offertery collection (donate to your parish here)
No offertery procession
No hymn books/shared materials
Readers are asked not touch the lectionary
Parishioners may bring their own Missal
Holy Communion
If a one-way system is in place, please follow it
Only the priest should consume the celebrant's host
Except during holy communion. the priest should not wear a face covering.
The precious blood will not be distributed at this time
Hands must be sanitised before and after distributing communion
Holy Communion should be received in silence in the hand. Step aside from the priest before consuming
Parishioners should be guided by stewards, including when leaving Mass
Please note,
If you have any symptoms of coronavirus or have been in contact with someone who has symptoms, please stay at home
The obligation to attend Mass remains suspended until further notice
Those who are SHIELDING should not come to Mass until it is advised it is safe to do so by the Scottish Government.
Those who are in other vulnerable groups should follow Scottish Government advice when making the decision to come to Mass.
Here's a helpful video from Fr Patrick Burke and the team at St Mary's Cathedral, Edinburgh, on what to expect on returning to Mass.
https://www.facebook.com/edinburghcathedral/videos/276786250056191/
The Scottish Government has issued detailed guidelines for the safe use of places of worship (Phase 3) on its website. Please click here to view.