Christians will come together in Edinburgh on Friday 24 February at 7pm to pray for peace in Ukraine.
St Mary's Catholic Cathedral in Edinburgh will host an ecumenical prayer service, with Archbishop Leo Cushley joined by Bishop Kenneth Nowakowski, of the Ukrainian Catholic Eparchy of Holy Family of London.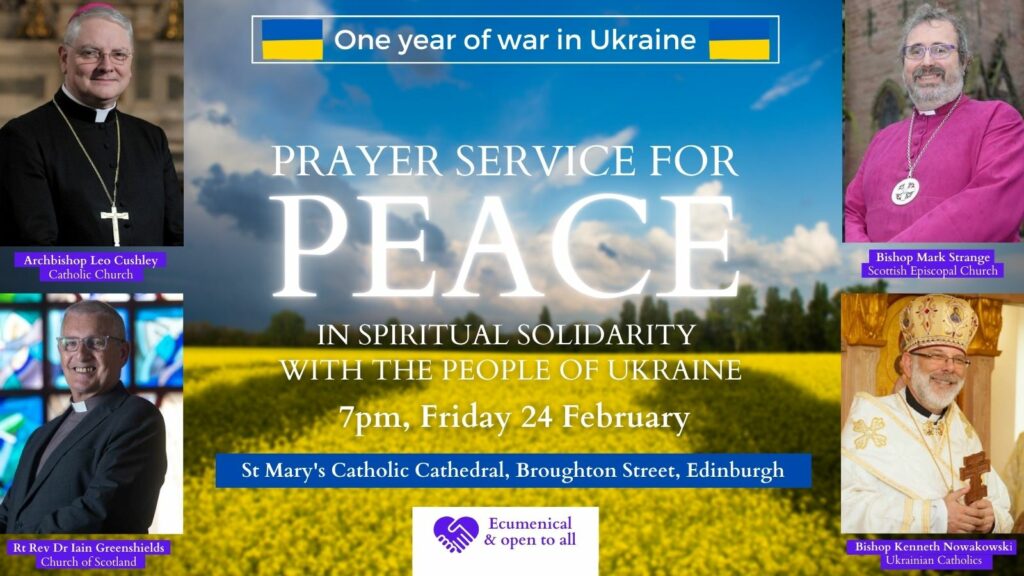 Also taking part are the Rt Rev Dr Iain Greenshields, Moderator of the Church of Scotland, and Bishop Mark Strange of the Scottish Episcopal Church.
The prayer service is just one of several events taking place as part of Edinburgh's Ukraine Forever programme to commemorate the first anniversary of Russia's invasion of the country. Below are events taking place on Friday 24 Feb, the date of the anniversary itself.
Вшанування річниці незаконного вторгнення. Дізнайтеся про події в Единбурзі
Friday 24 February
National moment of silence to mark one year of Russian invasion of Ukraine. 11am.
Wreath laying at the City War Memorial, City Chambers, Royal Mile. Starts 2pm. Open to all.
Vigil for Ukraine at University of Edinburgh, Bristo Square. Starts 4pm. Open to all.
Ecumenical Prayer Service with the Ukrainian Catholic Church and Archdiocese of St Andrews & Edinburgh at St Mary's Cathedral. 61 York Pl, Edinburgh EH1 3JD. Starts 7pm. Open to all.
The Other Side of War: Testimony of the Ukrainian Soldier at St Cuthbert's Parish Church,  5 Lothian Rd, Edinburgh EH1 2EP. Starts 7pm. An evening with Ukrainian soldier Sergiy Sylantyev for a unique informal discussion. Charity event. More information and buy tickets.
Remember in prayer our brothers and sisters of the Ukrainian Catholic Church in Edinburgh, including Fr Vasyl Kren, who are worried about their people back home. May God restore peace to the people of Ukraine. pic.twitter.com/Av3Yo7ikO3

— Archbishop Leo Cushley (@leocushley) February 24, 2022