The Bishops' Conference of Scotland (BCOS) has welcomed the announcement that churches may reopen for private prayer from this Monday (22 June). Read the Scottish Government guidance here.
We recognise the important role places of worship play in providing spiritual leadership & comfort to many people.

Our guidance to help places of worship safely open for individual prayer or contemplation from Monday 22 June has been published today➡️ https://t.co/m75uAfacCa pic.twitter.com/jFHWE6p5Fz

— Scot Gov Fairer (@ScotGovFairer) June 19, 2020
The basics
The announcement means that from Monday:
Churches can reopen for private prayer.
Funeral Masses can take place inside churches, with limited numbers.
Churches can reopen from this Monday. pic.twitter.com/kaUwviUt2Q

— Archdiocese of St Andrews & Edinburgh (@archedinburgh) June 18, 2020
No public Mass
Public Mass cannot yet take place in church.
Weddings cannot take place inside church, neither can baptisms.
Confessions may take place where physical distancing can happen (not a confessional box).
When is my church open?
Not every church will be open on Monday. Some parishes are still preparing so please be patient. Priests need to be satisfied that procedures outlined by BCOS are in place to reduce risk of potential infection. They also cannot open without volunteers - contact your priest if you can help. If your parish has more than one church, it's likely not all of them will be open.
Visit you parish website or social media page or phone your priest for details.
What to do in church
Pray! And follow the guidance from this video, issued by BCOS.
Here's our guide featuring Fr Allan Chambers from St Mary's in Bathgate.
Some parishes are providing their own summary guidance, including St Mary's Cathedral in Edinburgh.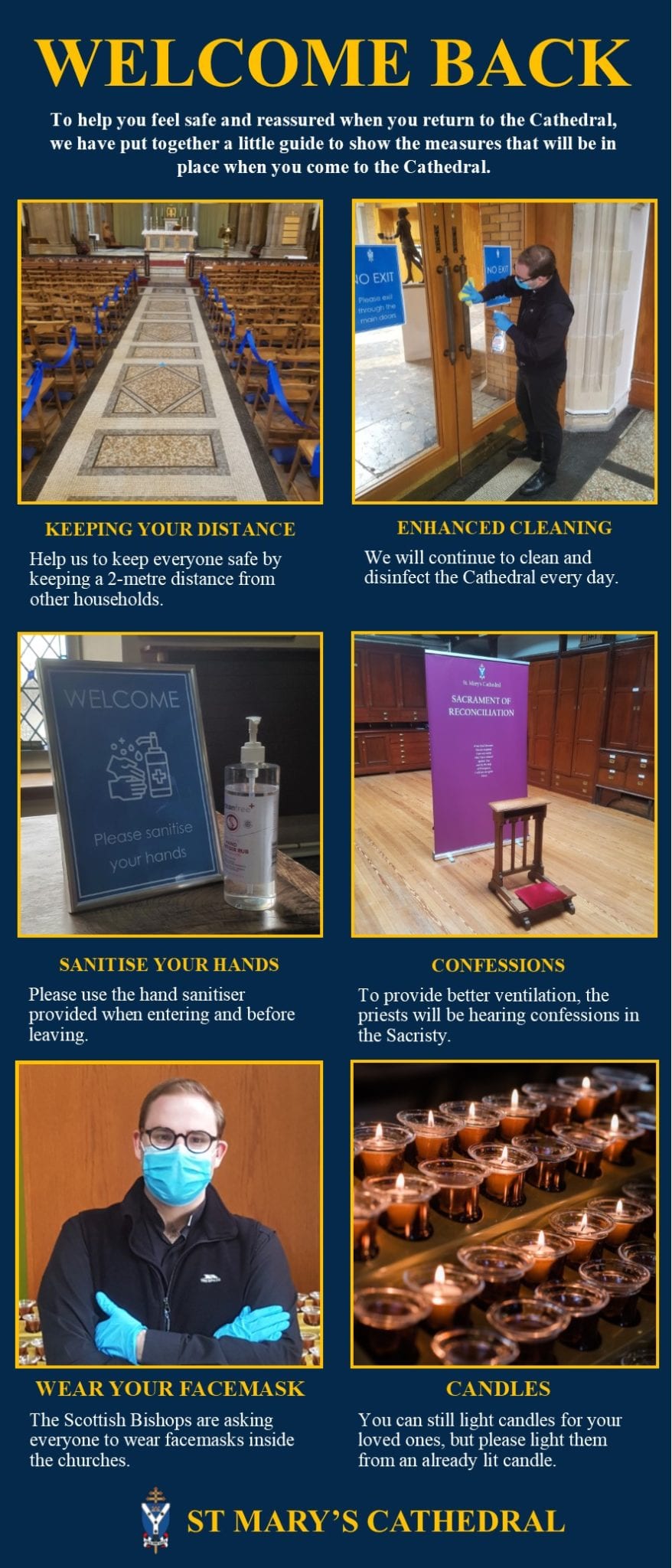 Informed clergy
Archbishop Cushley contacted all clergy across the Diocese on Thursday to update them and share a summary guide on church reopenings. He will update and clarify guidance for our priests in the coming week.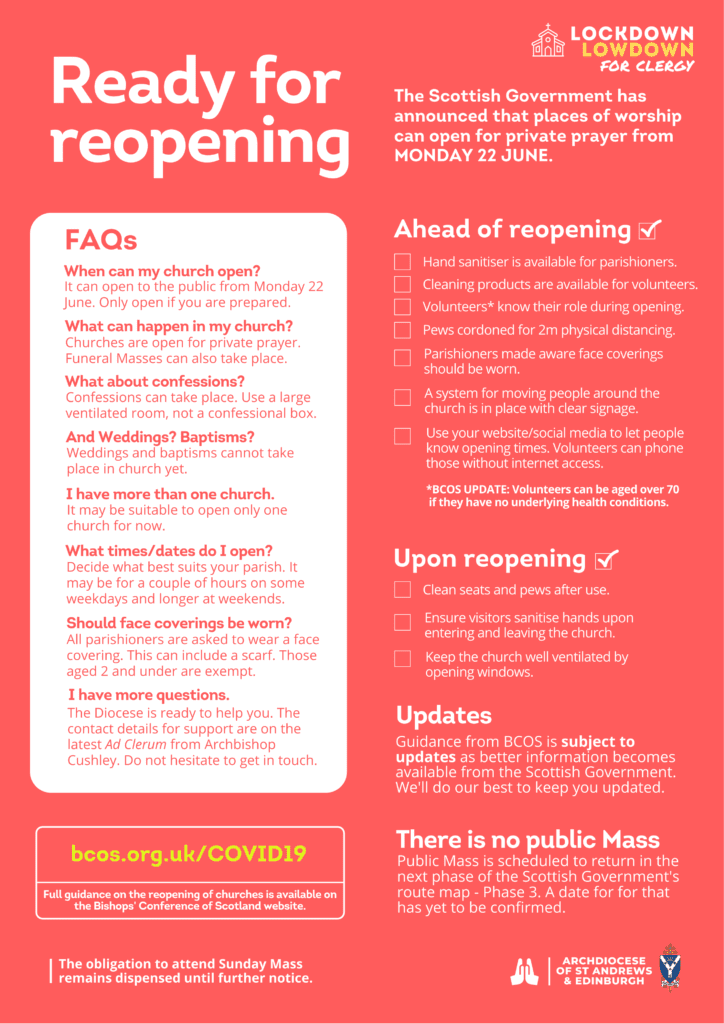 Pray and Support your priest
Today (Friday 19 June) is the World Day of prayer for the Sanctification of Priests. Please say a prayer for your priest. Also contact him if you are able to volunteer to help reopen your church.
Today is the Feast of the Most Sacred Heart of Jesus.

It's also the World Day of Prayer for the Sanctification of Priests. Please say a prayer for your priests. pic.twitter.com/4hTUVXhlPR

— Archbishop Leo Cushley (@leocushley) June 19, 2020
BCOS guidelines - where to start
The BCOS guidelines on reopening churches are available to view here. There are a lot of documents. The below document is a good starting point. It outlines the phases of church reopenings, how to prepare and what to expect.
This document contains specific guidance on cleaning procedures.
The documents are subject to updates. These updates follow the latest Scottish Government guidance. For example, an update earlier this week stated that those aged 70 and over with no background health issues can now volunteer at their church.
Bishops' reaction
Bishop Hugh Gilbert, BCOS President, said: "We welcome the decision to reopen churches and look forward to the gradual resumption of church life, while recognising that not all parishes may be able to reopen immediately."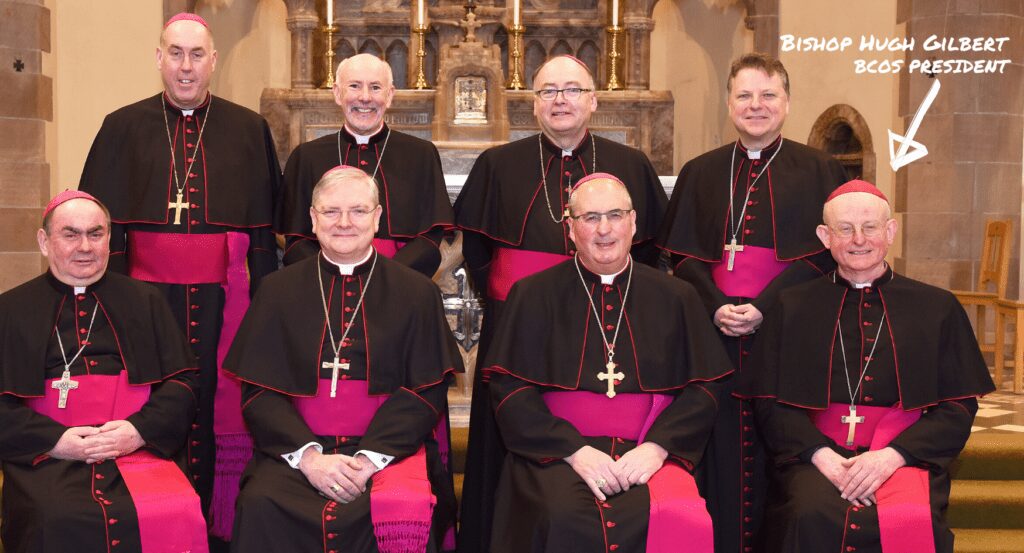 First Minister - what she said
Announcing the reopening of churches at Holyrood on Thursday, Ms Sturgeon said: "I know that during this crisis many will have drawn real strength and comfort from their faith but I also know that people of all faiths are missing the ability to gather together.
"I want to acknowledge that and also thank the priests, ministers, rabbis, imams and many others who have worked so hard to keep in touch with faith groups.
"The nature of this virus and how it is spread means that it may still be some time before large religious gatherings are permitted, but I do hope the reopening of places of worhsip for individual prayer will be welcomed and will provide comfort for many."