Happy Easter to you all! Here are some viewing/listening options for today.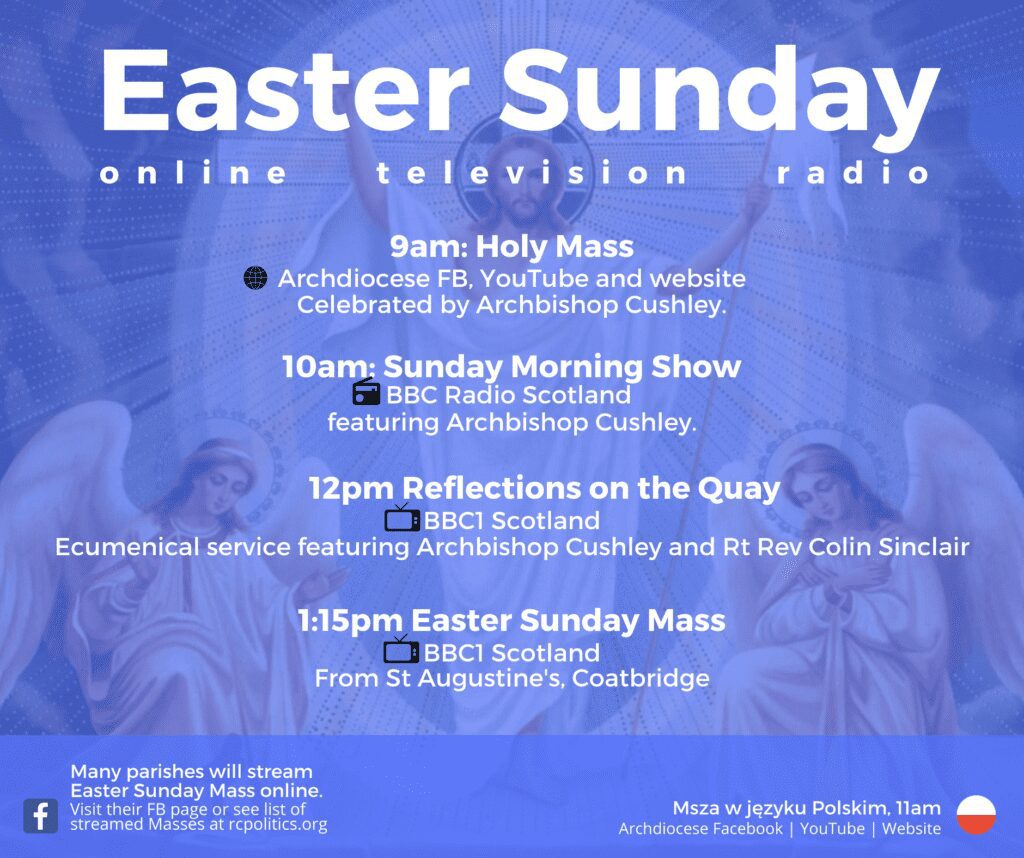 You can watch Mass with Archbishop Cushley at 9am.
Happy Easter! He is Risen! Sunday Mass with Archbishop Cushley is at 9am on our Facebook page.

Also:
YouTube: https://t.co/sg1un9aJOZ
Website: https://t.co/DC8IeIOwD7 pic.twitter.com/FeQhcXzhXW

— Archdiocese of St Andrews & Edinburgh (@archedinburgh) April 12, 2020
You can watch the Ecumenical service 'Reflections on the Quay' at midday on BBC1 Scotland.
Join Archbishop of @archedinburgh Leo Cushley and the Moderator of the General Assembly of the Church of Scotland this Easter Sunday for #ReflectionsattheQuay

Easter Sunday, 12 noon, @BBCOne Scotland

More here >> https://t.co/c06PC9xkbg pic.twitter.com/HiQuRHmihL

— BBC Scotland Comms (@BBCScotComms) April 11, 2020
Happy Easter! This is Rev David Strachan, self and the Kirk's Moderator Rt Rev Colin Sinclair at the BBC preparing our Easter broadcast today. Social distancing doesn't show you how Covid-19 has actually brought us closer. A real pleasure to work w them n the team. Every blessing pic.twitter.com/gWP6Nuq03k

— Archbishop Leo Cushley (@leocushley) April 12, 2020
Tune into BBC Radio Scotland at 10am, for the Sunday Morning Show, featuring Archbishop Cushley. And don't forget Mass is on BBC1 Scotland today at 1:15pm.
Easter Sunday Mass on national television @BBCScotland ✝️ https://t.co/m6vbjd5Hyr

— Archdiocese of St Andrews & Edinburgh (@archedinburgh) April 11, 2020
Have a happy, holy day!