Archbishop Cushley will ordain Br Samuel Burke to the priesthood at St Mary's Cathedral on Saturday (25 July). He is currently a Dominican brother based in St Albert's Catholic Chaplaincy at Edinburgh University.
What are you most looking forward to in your ministry?
I'm most looking forward to celebrating Holy Mass: the Eucharist is the most wonderful gift that we have and it boggles my mind to think that God will use me as a priest to re-present Christ's sacrifice at calvary. More generally as a Pastor, I'd like to try and be to others what good priests have been to me. I want to help people get to heaven - as well as trying to get there myself!
What did you do before the priesthood?
I practiced as a Barrister, taught law, and worked in British and American politics.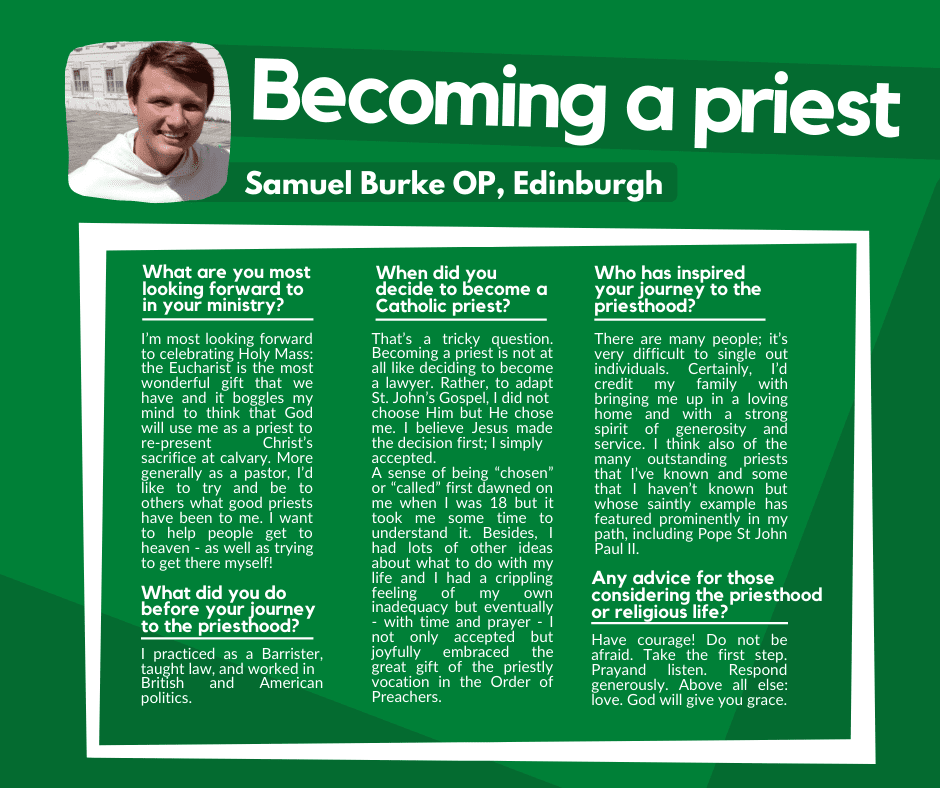 When did you decide to become a Catholic priest?
That's a tricky question. Becoming a priest is not at all like deciding to become a lawyer. Rather, to adapt St John's Gospel, I did not choose Him but He chose me. I believe Jesus made the decision first; I simply accepted. A sense of being "chosen" or "called" first dawned on me when I was 18 but it took me some time to understand it. Besides, I had lots of other ideas about what to do with my life and I had a crippling feeling of my own inadequacy but eventually - with time and prayer - I not only accepted but joyfully embraced the great gift of the priestly vocation in the Order of Preachers.
Has anyone in particular inspired your journey to the priesthood?
There are many people; it's very difficult to single out individuals. Certainly, I'd credit my family with bringing me up in a loving home and with a strong spirit of generosity and service. I think also of the many outstanding priests that I've known and some that I haven't known but whose saintly example has featured prominently in my path, including Pope St John Paul II.
What advice would you give men considering a vocation to the priesthood?
Have courage! Do not be afraid. Take the first step. Pray and listen. Respond generously. Above all else: love. God will give you grace.
The ordination of Samuel Burke is on Saturday at St Mary's Cathedral, Edinburgh. The Mass is private due to the current situation with Covid-19. He will say his first Mass in St Albert's, 24 George Square, Edinburgh, at 5.15pm on Sunday. This Mass will be streamed live on Facebook and will be made available afterwards to view here.
Interested in the priesthood or religious life? Have a chat with one of our vocations directors:
Father Andrew Garden - vocations@staned.org.uk | 0131 663 4286
Sister Mirjam Hugens - religiousvocations@staned.org.uk | 0131 623 8902