Songwriter and singer Barbara Dickson discusses her desire to help her parish – St Mary's Cathedral in Edinburgh –  by raising funds with two special shows this Friday and Saturday.
You have a big show coming up in Edinburgh…
It's my only Edinburgh show this year as I'm on a huge tour in 2021 which will take in the city, but this is a chance to see Nick Holland and I in a special, stripped-down small line-up. The concert, along with the show with Phil Cunningham and Aly Bain this Friday (6th March), is a big fundraising effort in aid of St Mary's Cathedral. It's where I go to church.
What makes these shows so special?
There have never been concerts like this before in St Mary's Cathedral. We've had classical recitals there, choirs etc, but nothing like these shows. The Cathedral is a working and sacred space, so it's important to me that the concerts are sensitive to these surroundings.
You've managed to involve Scotland's best-loved folk musical duo involved too…
We wanted to make a weekend of it, so my obvious suggestion to the committee was to ask Aly Bain and Phil Cunningham, who are the most popular folk instrumental act in Scotland. I think it's an original and unique chance to see us all at work. I'm so grateful to Phil and Aly for taking part.
Don't miss the chance to see the wonderful Aly Bain & Phil Cunningham (@PhilandAly) live at St Mary's Catholic Cathedral in Edinburgh on Fri 06 March!

Tickets: https://t.co/Wf6gBe36Zk via @eventbrite pic.twitter.com/BpTyogHWm4

— Barbara Dickson (@BarbaraDickson) February 28, 2020
Why are the concerts taking place?
The concerts are fundraising for the upkeep of the Cathedral. The original building was erected in the 19th century and grew over the years into the space we have now. As all old buildings can attest, they need loads of TLC. Importantly, the Cathedral is home to our National Shrine of St Andrew where we keep the relics of that great man. It attracts many visitors from all over the world throughout the year and we want it to look its best!
Why did you decide to help?
I wanted to help in some positive way, as I'm a parishioner there and I volunteer when I can. This seemed a good way that I could use my gifts to raise the Cathedral's profile and help with infrastructure repairs. I want to encourage all the Catholics in our Archdiocese to appreciate that and to come and support the fundraising efforts. After all, it is our Mother Church.
What can people expect from your show?
I play guitar and keyboards and Nick Holland, on stage with me, is my keyboard player in my band, so we've worked together for a long time now. We play a mixture of traditional music, contemporary songs and original material of my own, plus a couple of the favourites from my old pop career and from the stage. I will have a couple of songs to offer from my forthcoming new album, out at the end of 2020, provisionally entitled 'Time is going Faster'.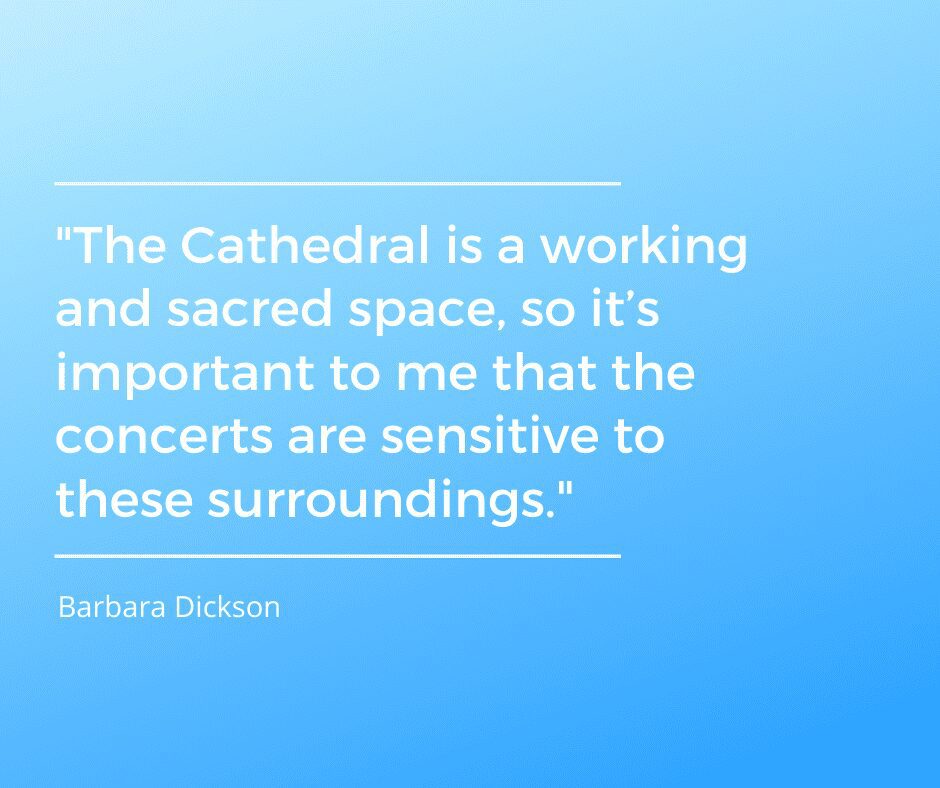 What's your favourite memory of playing/performing live from your career?
I have many favourite memories of long ago when I was a pop star, but probably my OBE awarded in the early 21st Century by HM The Queen is one and having so many platinum, gold and silver albums to count! Having been raised up in the Folk Revival of the mid-1960s here in Edinburgh, I appreciate the grounding of everything musical I learnt and took on into my career. The people and the folk clubs, all gave me my deep love of folk song and ballads. That's why I have a preference for songs with good words. When folks ask me what the highlight of my career would be, I always mischievously answer 'I don't know. It hasn't happened yet'!
How does that compare to performing on stage in shows such as Blood Brothers?
Blood Brothers and Spend, Spend, Spend were the two shows from which I gathered my two Olivier Awards for Best Actress. They were marvellous shows in which to appear and I was pleased to originate those characters, as especially in Spend, Spend, Spend, I was playing a live character and two of us were playing her in addition to that! It was a great concept and a marvellous show, as was Blood Brothers in 1983. Willy Russell is a terrific person and great writer, to have written such a strong female lead as Mrs Johnstone. My mother was from Liverpool, so I could tap into my family memories for her.
What's next for Barbara Dickson?
I'm doing some travelling and enjoying visiting firstly Sicily and then North America. But I love just being here in Edinburgh, the city I care for so much and find so difficult to leave! My next Scottish shows will be in March/April of 2021, so look out for those.
Concerts in the Cathedral take place at St Mary's Catholic Cathedral in Edinburgh. Aly Bain & Phil Cunningham Friday 6 March, tickets here. Barbara Dickson with Nick Holland (support Anthony Toner) Saturday 7 March, tickets here. Doors for both shows 7pm (tickets also available to buy on the door).