Here is Archbishop Leo's homily on Friday of the Passion of the Lord, from St Mary's Cathedral in Edinburgh this afternoon. All pics: Benedicta Yi Xin Lin.
Homily of Archbishop Leo Cushley of St Andrews & Edinburgh
Solemn Commemoration of the Lord's Passion, 2022
St Mary's Metropolitan Cathedral, Edinburgh  
My dear friends,
Today by tradition we listen to the Passion according to St John.  Last night, here in the Cathedral we reflected a little on the courage of Thomas the Apostle.  St John records that all the disciples were afraid of going up to Jerusalem with the Lord – except St Thomas.
Instead, he spoke out: he dared to accompany Jesus to Jerusalem, and said boldly to the others, "Let us go too, and die with Him".  Of all the disciples, Thomas is the only one who speaks up, or better, who expresses any words of true and consistent courage in the face of the events as they unfolded.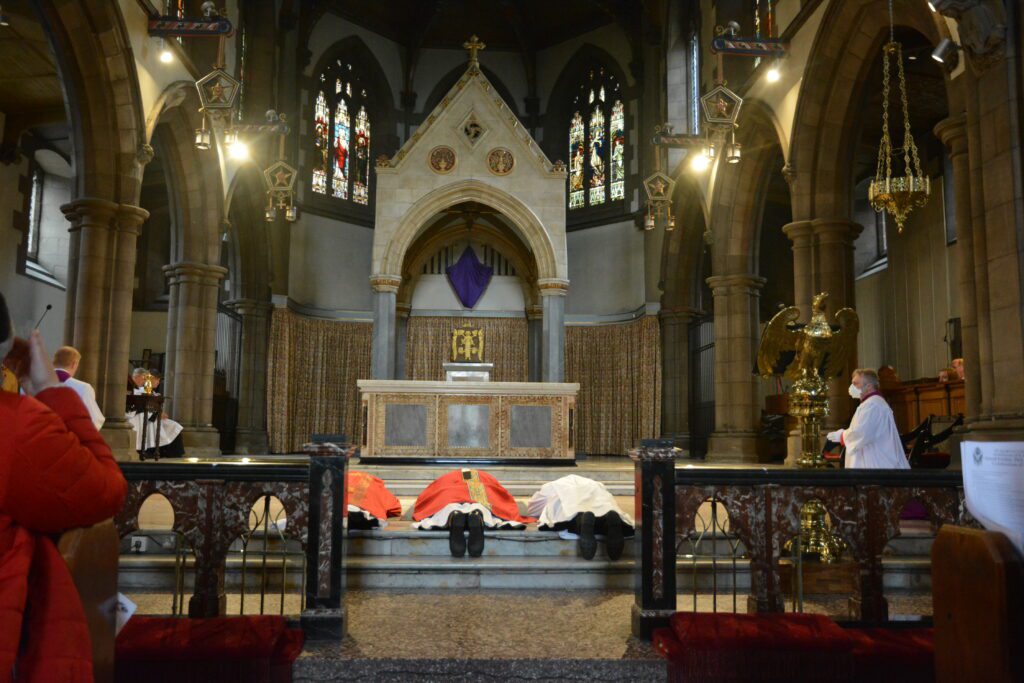 We know that St Peter has some brave words to say.  We've just heard them, but they turn out quickly to be only words.  Peter's betrayal becomes an iconic one, a collapse of his genuine, but as yet timid, love for the Lord as he is challenged by a few bystanders, who catch his accent, realize he's a Galilean, and terrify him with the prospect of his own torture and death.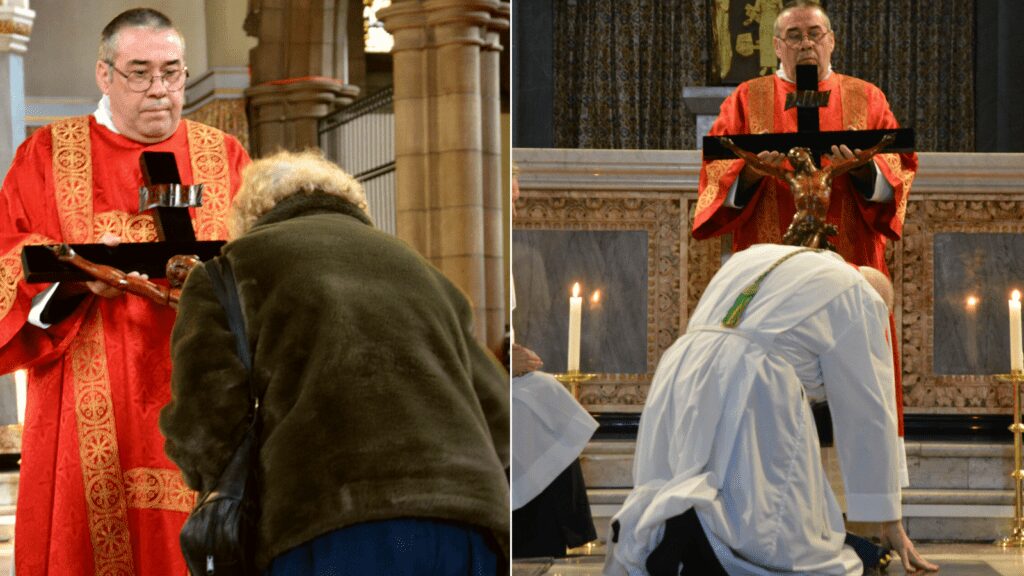 But not even Thomas is there at the end.  Only St John, of all the Apostles, is at the foot of the Cross.  Our Lady, Mary of Magdala, and Mary the wife of Cleopas, also stand there and bear the risk of association with Jesus bravely, to say nothing of the shame and the horror, as they keep their watch, in front of all the onlookers who had, as St Luke says, "come to see the spectacle".
From the Cross, Jesus then addresses a few final words to his mother and to John. Others, perhaps emboldened in some way, show a little courage later on: Joseph of Arimathea and Nicodemus step forward after Jesus' death.  They have both been growing in faith over the time of Jesus' ministry, and have come to follow Jesus by slightly different paths.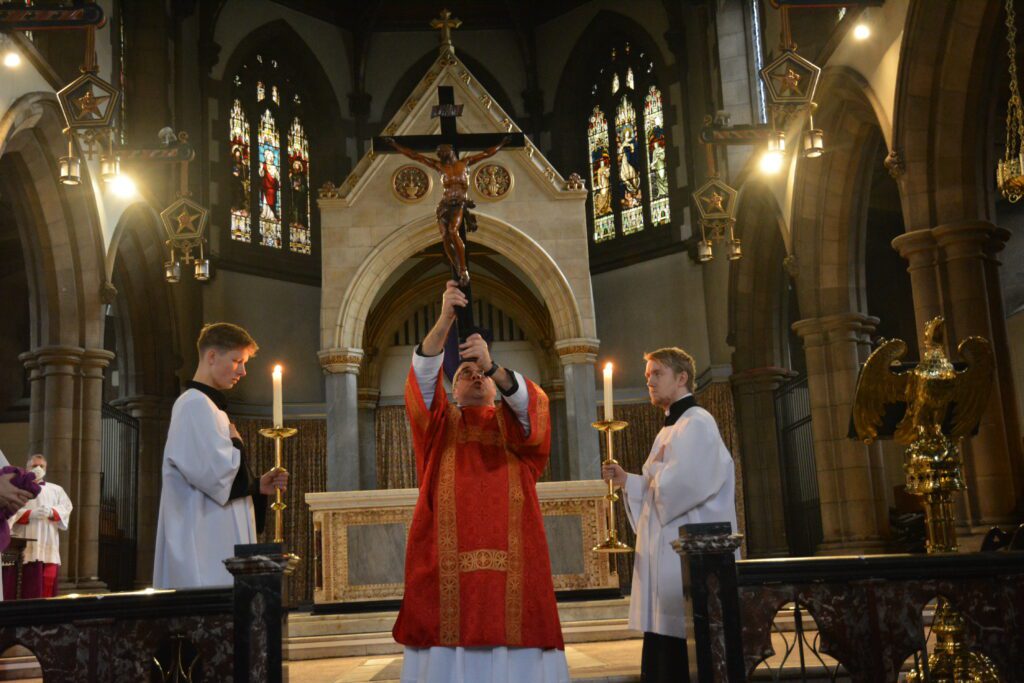 Nicodemus came to Jesus to get to know him, but famously did so "by night", probably because he didn't want to be seen with Jesus in public.  Meantime, however, he has grown in courage, and with the death of Jesus, his faith has now been confirmed and revealed.  Here is a faith that embraces Jesus at the very moment of his death.
Nicodemus is not only brave; he is among the very first disciples to see that what is happening here today isn't a disaster, but the very will of God revealed in the mystery of the Cross.
He glimpses now, as the Church would later on, that Christ came into the world for this".  The Cross is a triumph, though a dark and somber one at this moment.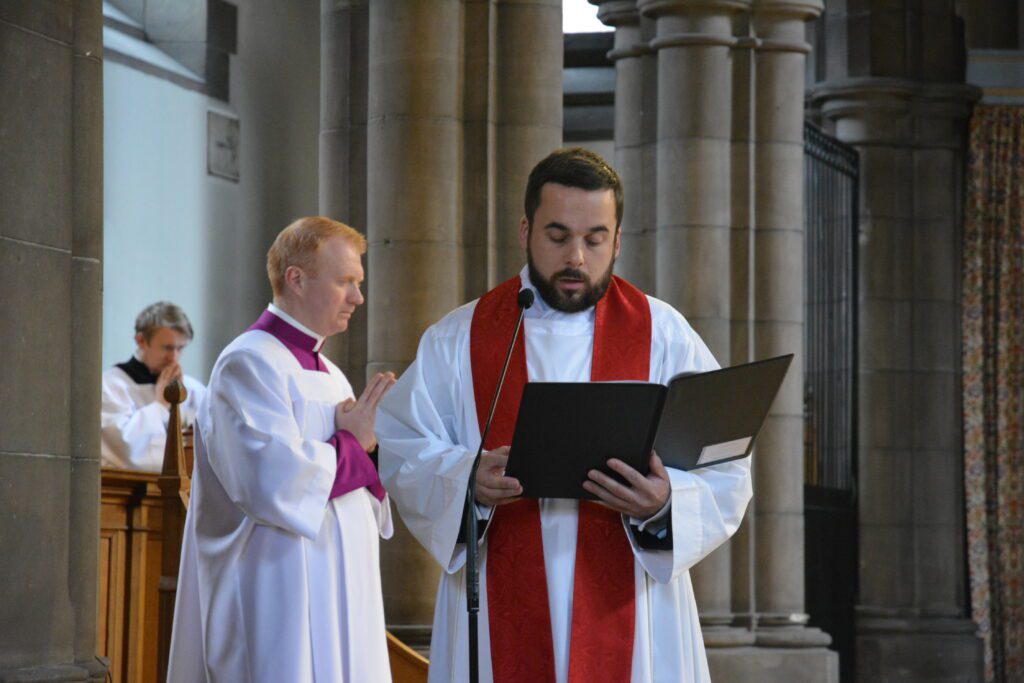 Meantime, Joseph of Arimathea is there too: he is actually described here as a disciple, which is worth noting.  He was an important man among the people; but he too is described a secret disciple, because he had been afraid of other people's opinions about Jesus; but he has been quietly growing in faith nonetheless.
He, like Nicodemus, is here at the end, and he goes to Pilate to ask for Jesus' body.  He is a silent, brave and eloquent witness of faith in Jesus as well.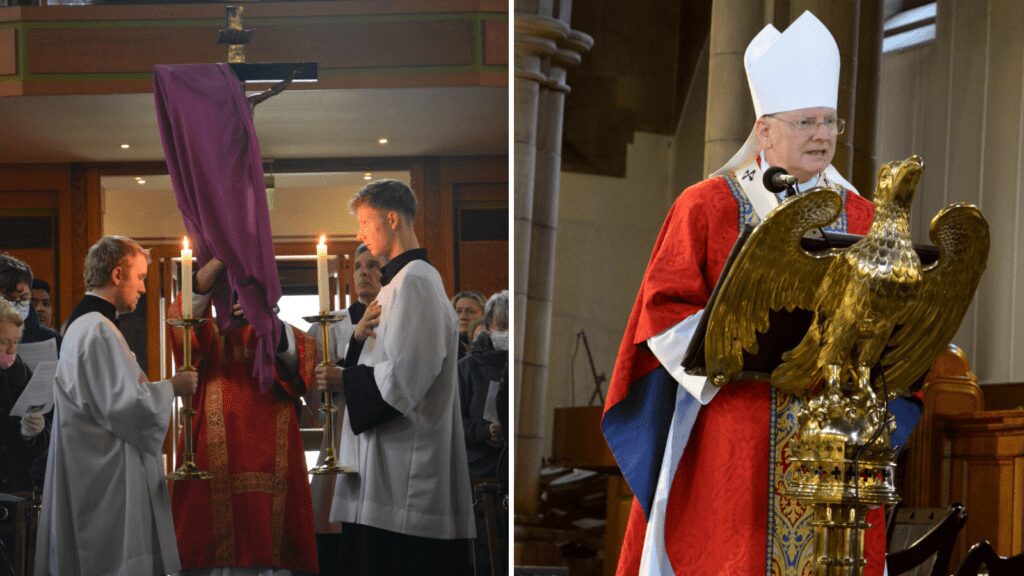 And, above all, we see the love and constancy of Our Lady, St John and the other Marys.  It is impossible to imagine what is going through Our Lady's mind, but her heart is surely pierced by her Son's rejection and death.
And through the Lord's dialogue with her and John, we see them united with Jesus and each other in a way that sets them quite apart from the other figures beneath the Cross, although all of the group show the greatest courage and love to be there with Jesus to the end.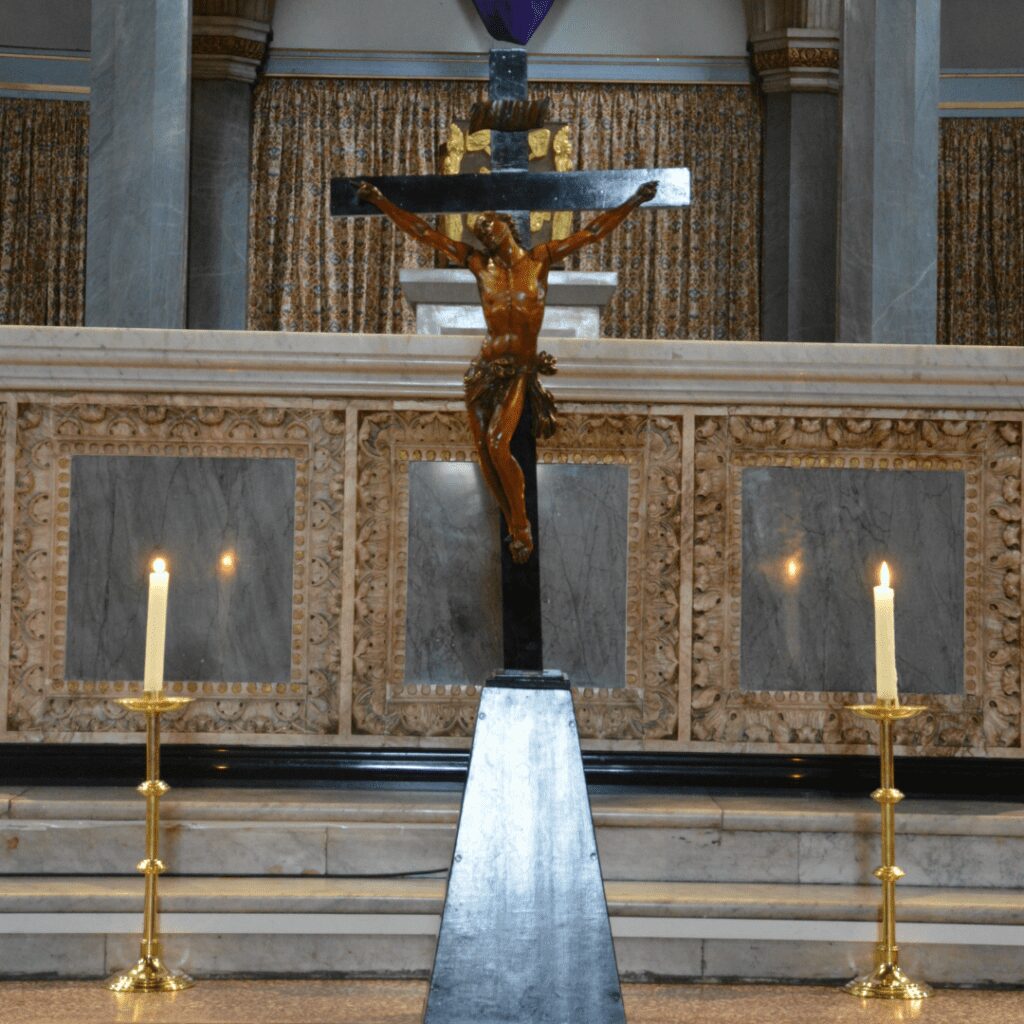 And, for Our Lady and St John, we see a particular bond of love and affection which is very moving to recall.  We are told nothing more about it here.  But we can be confident that their love for Jesus has turned, silently and solemnly, into something that will grow in the days and years to follow.
Mary's natural, motherly love for her Son, and John's brotherly love for his friend, and filial love for his divine Master, are transformed though the Cross into something even more profound.
To paraphrase the great Scots poet Edwin Muir, "What had Eden ever to say" about the flowers of "hope and faith and pity and love"* that grow at the foot of the Cross, and that bloom, nourished by Christ's blood, to give hope and courage to all humanity?*  These flowers of faith and affection, growing but still delicate and small in today's story, will one day become faith and hope for us all, to the greater glory of God.
And whether our faith is new like Nicodemus's, or brave like Joseph's, let us learn to imitate the love and the courage of them all, especially Our Lady and St John.  Let us take the risk to place ourselves in public at the foot of the Cross, and offer the Lord the little faith and love and courage that we have, in the hope that it will grow more constant in our hearts, by God's good grace.
*One Foot in Eden, by Edwin Muir.
All pics: Benedicta Yi Xin Lin.