Seminarians across Scotland have returned to Rome for their studies towards the priesthood.
The Pontifical Scots College in Rome welcomed back six seminarians. They are Martin Eckersley (Deacon), Gerard Holden, Alessio Marchetti, Matthew McCafferty, Josh Moir and Bobby Taylor (Deacon).
The community travelled to Bagnoregio to begin the academic year with a silent retreat, led by Fr Philip Harrison SJ. They also attended Mass, celebrated at the Basilica of Santa Maria Maggiore, in remembrance of the college's founder, Pope Clement VIII, and protector, Pope Paul V.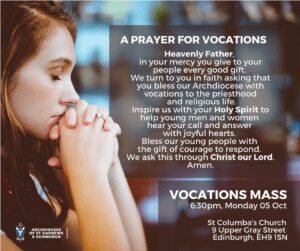 Meanwhile, the Pontifical Beda College in Rome, which is geared towards mature students, will have Paul Henderson and Peter Shankland joining them next week.
Please keep them all in your prayers. You can support our seminarians in prayer in a special way by attending the monthly Mass for Vocations. It takes place this Monday, 6:30pm at St Columba's, 9 Upper Gray Street, Edinburgh.
If you would like to find out more about the priesthood and religious life, explore it! Have a chat with our vocations directors: Fr Andrew Garden 0131 6634286, vocations@staned.org.uk | Sister Mirjam Hugens, 0131 6238902 religiousvocations@staned.org.uk
Title image pics: Scots College. Follow the Scots College on Facebook and Twitter.