Rome has granted an indulgence to those who pray before the Blessed Sacrament as part of the Archdiocese's 40 Hours' Devotion.
Archbishop Cushley petitioned the Vatican to make the request and was pleased to hear that it was recently granted. It means that those who spend an hour in prayer before the Blessed Sacrament as part of the 40 Hours' Devotion receive the indulgence under the usual conditions.
Archbishop Cushley said: "I am grateful to the Holy Father for this spiritual gift to the people of the Archdiocese of St Andrews & Edinburgh.
"During this time of grace for us, I invite everyone to hear again the Lord's question to the disciples on the night that He instituted the Eucharistic sacrifice: 'Could you not watch one hour with me?'. I am praying that many will respond with an emphatic 'yes, Lord' over the coming year."
Launch
The 40 Hours' Devotion launches at St Mary's Cathedral at 1pm on Sunday (28 November). It will then take place in all parishes throughout this new liturgical year (see the schedule here.)
There will be Eucharistic Adoration throughout the day with guided Holy Hours from Fr Scott Deeley (Sunday), Mgr Andrew McFadden (Monday) and Archbishop Cushley (Tuesday).
An indulgence is described in the Catechism of the Catholic Church as:
"... a remission before God of the temporal punishment due to sins whose guilt has already been forgiven, which the faithful Christian who is duly disposed gains under certain prescribed conditions through the action of the Church which, as the minister of redemption, dispenses and applies with authority the treasury of the satisfactions of Christ and the saints."(CCC 1471) .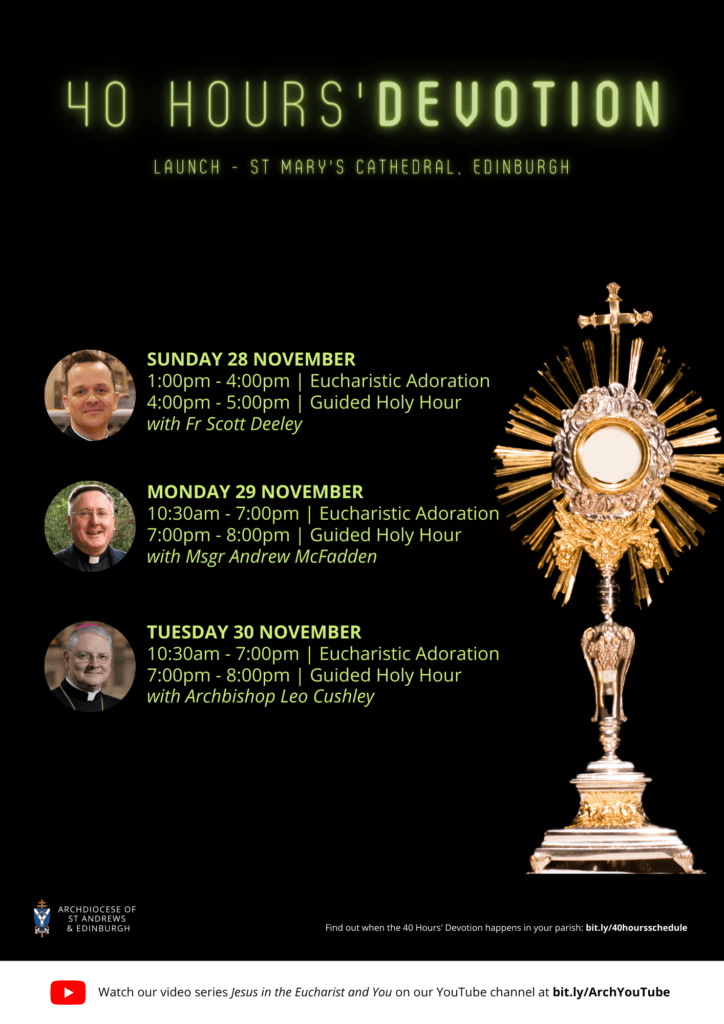 Prepare for the Eucharist Adoration in your parish by watching our video series 'Jesus in the Eucharist and You' on our YouTube channel here.