Archbishop Cushley has sent a message of support to teachers and pupils ahead of Catholic Education Week.
He said "Our Catholic schools remain as important to us in the Catholic community as ever they were and I encourage you to support them morally, politically, spiritually with your prayers.
"We never to forget the importance that they play in the life of our Church because they help our people know and love Jesus Christ, who is the way, the truth and the life." View the full message in the below video.
The message follows a pastoral letter issued earlier this week by Archbishop Philip Tartaglia of the Archdiocese of Glasgow (President of the Commission for Catholic Education).
What is Catholic Education Week?
It is held each year to:
celebrate the God-given talents and achievements of our young people;
acknowledge the hard work and faith witness of the staff in our schools;
mark the unique contribution that Catholic Education makes to our families, our parishes and to wider Scottish society; and reflect on the mission of the Catholic school for the future.
Helping our teachers
The Archdiocese's education team, Eileen Rafferty and Margaret Barton, have been running Zoom sessions for teachers on new sacramental resources which are now available.
Eileen said, "These materials cover Reconciliation (confession), First Holy Communion and Confirmation. They reflect solid theological content in an accessible format to help our teachers prepare pupils for these milestones in the Faith.
"Catholic Education Week is a wonderful way to remind everyone of the central role of Jesus Christ in our schools."
Resources
Please visit the Scottish Catholic Education Service website for a range of materials for teachers, parishes and parents.
Event
As part of Catholic Education Week you are invited to join artist Anne Devine as she shares her theological, historical and spiritual journey to produce one of the most recent and significant contributions to sacred art. This online event officially unveils The Contemplation of St John Ogilvie and provides a unique opportunity to engage in conversation with the artist.
Wed 18 Nov 7-8pm on Zoom. Register by emailing susan.white@glasgow.ac.uk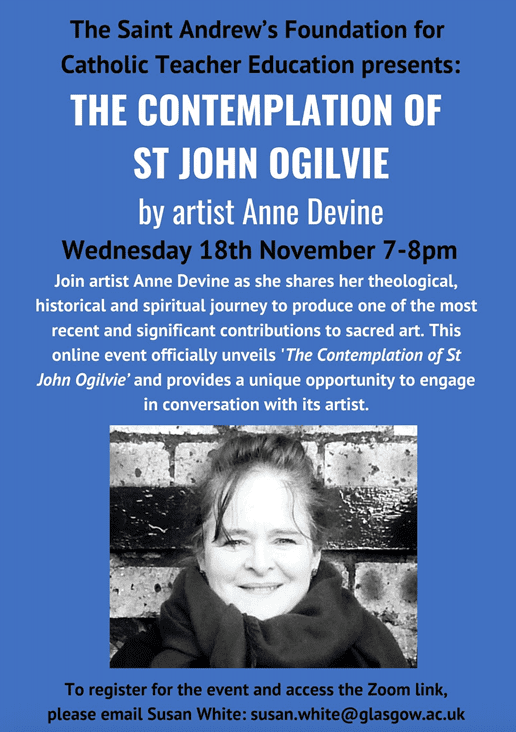 Catholic Education Week Prayer
Jesus our Teacher, in your love for us,
help us to develop our own talents
so that we may become like you
and lead lives of goodness.
Bless all learners
and all teachers.
May our Catholic schools continue to serve our families,
our communities and our country.
Help us, through our learning,
to believe in you
and to celebrate the life of your Church.
Help us to grow in holiness
as we grow in friendship with you
and try to become saints.
We make this prayer
in the name of Jesus, our Lord. Amen.