Sister Anna Marie continues to speak on faith and prayer via Zoom for all the deaneries of the Archdiocese of St Andrews and Edinburgh.
Originally planned to be held i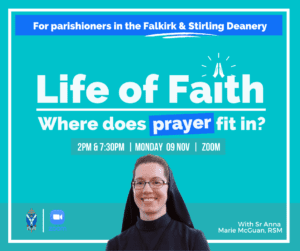 n parishes within the deaneries, the talks are now held via Zoom to conform with pandemic guidelines.
This coming Monday, 9th November, parishioners from churches in the Falkirk and Stirling deanery are encouraged to sign up.  Invite friends and family to join.  If you missed your deanery, you too can sign up - don't let the opportunity to go deeper in faith pass you by!
Please email SrAnna.Marie@staned.org.uk to register for the 2 p.m. or 7:30 p.m. session.