When Brian and Maureen Devine attended a Catholic Marriage Encounter weekend back in 1977, it proved an "earth-shattering" moment in their lives.
"That weekend turned our world upside down", said Maureen. "I was deeply moved by the Holy Spirit, although I didn't have the words to express that at the time."
Brian said: "Although we had been married a decade and had five young children, it stopped us in our tracks, caused us to re-evaluate our busy lives and gave us back to each other." Following that weekend they felt called by God to "something more".
The couple host an afternoon retreat at the Gillis Centre in Edinburgh for married and engaged couples on Sunday 8 May, 3:00-5:30pm. Register here (free event).
Dedication
Over the next four-plus decades it has led them to dedicate their lives to inspire and help other married couples grow closer to each other and to God.
Their hard work and charisma saw them becoming the Marriage Encounter National Leadership team in the early 1980s and later they opened up a retreat centre with 15 rooms at Brian's work premises in London to facilitate weekend retreats.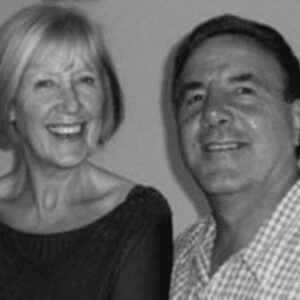 They later moved house and opened up their home to incorporate their retreat work and for 19 years their family home was a Christian centre, open to all.
They went on to have two more children and Brian continued to run his busy advertising agency.
Being such different characters there were often challenges, but they managed to juggle their work and family commitments around their many and varied apostolates.
Inspiring
Reaching 50, they wanted to better understand their faith journey in order to pass it on, so over several years both did a BA and MA in Theology.
The couple, who celebrated their golden wedding anniversary in 2016 are now experienced in helping, listening and inspiring couples from across the UK and are national co-ordinators for Two in one Flesh, a group providing resources to support, uphold and strengthen the beauty and sanctity of marriage.
They are also qualified spiritual directors with over 20 years in that ministry.
Maureen said "People came to our home and found a listening ear and a temporary place of shelter and healing.
"Some very interesting and sometimes broken people came our way, but always the Lord went ahead and helped us to learn how to listen, what questions to ask, when to just be still."
'Refreshment'
They are now looking forward to hosting the afternoon retreat at the Gillis Centre in Edinburgh on Sunday 8 May, 3:00-5:30pm.
Brian said, "This retreat can be likened to a watering hole for the marriage journey. It's a place of refreshment, but it can also be more serious as watering holes can also save lives!"
Expect to be inspired by this warm, friendly and charismatic couple.
Afternoon retreat with Brian & Maureen Devine, 3:00-5:30pm, Sunday 8 May, Gillis Centre, 100 Strathearn Road, Edinburgh, EH9 1BB (FREE EVENT). Register here. (Image credit: Brentwood Diocese).