Here's our update for May. You can received this straight to your inbox by popping your details into the subscribe box on our news & events page on this website.
Talk series: Acts of the Apostles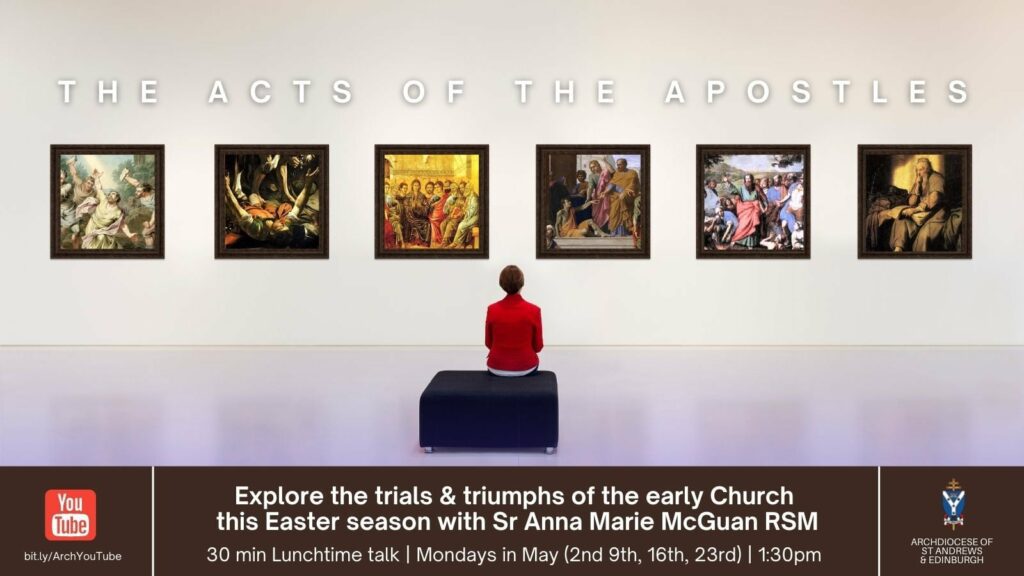 Explore the trials & triumphs of the early Church this Easter season with Sr Anna Marie McGuan RSM in these 30 min live YouTube talks each Monday at 1:30pm (begins today, Monday 2 May). Watch here.
Study Theology in Edinburgh!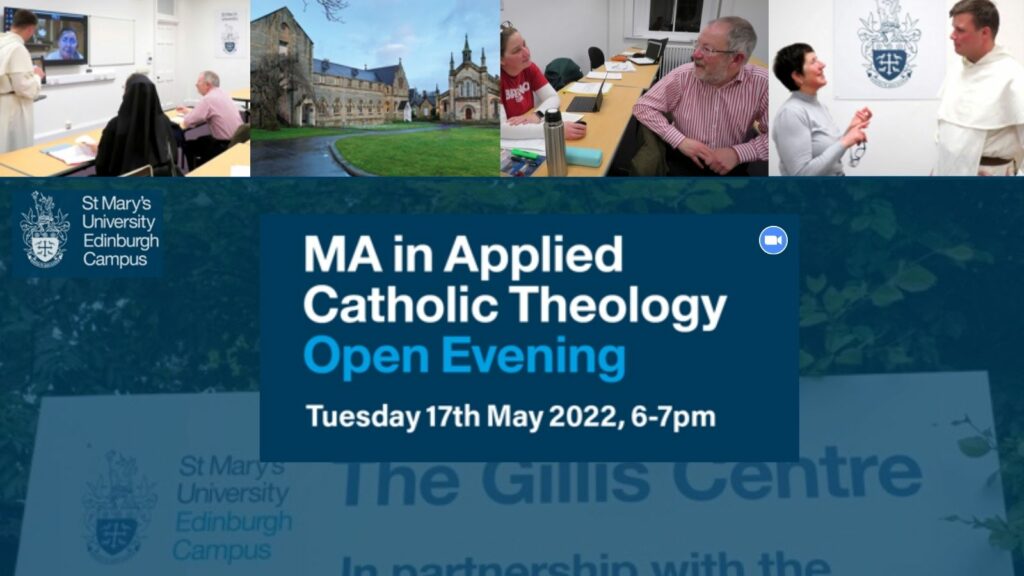 St Mary's university invites YOU to study the MA in Applied Catholic Theology at the Gillis Centre Campus in Edinburgh this September. Join our online open evening 6-7pm on Tuesday 17 May to hear from course leaders and more. Register at here. Find out more at stmarys.ac.uk/Edinburgh
Retreat for Married/Engaged Couples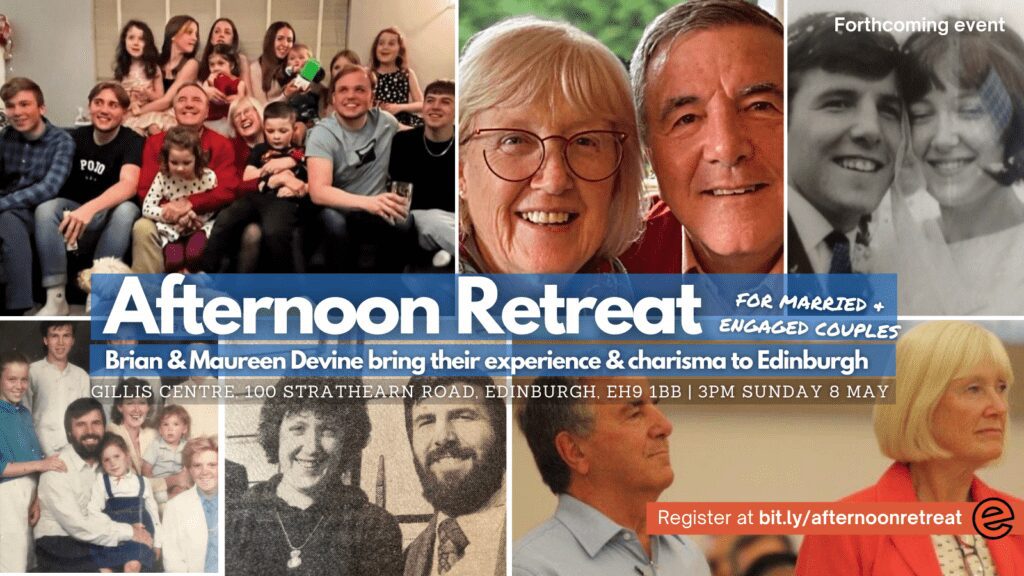 Expect to be inspired by Brian & Maureen Devine - a warm, friendly and charismatic couple who have spent decades bringing couples closer to each other and to God. 3:00-5:30pm, Sunday 8 May, Gillis Centre, 100 Strathearn Road, Edinburgh, EH9 1BB. Register here.
Holy Mass for Married/Engaged Couples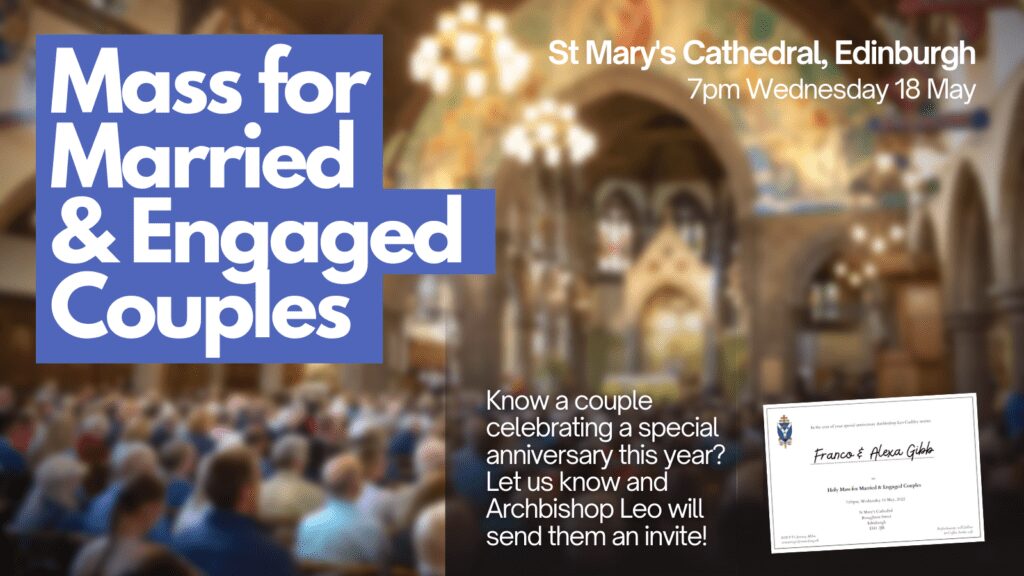 Join Archbishop Leo as he celebrates Mass for married and engaged couples in our Archdiocese at 7pm onWednesday 18 May at St Mary's Cathedral, Edinburgh.
Fr John Morrison 1936-2022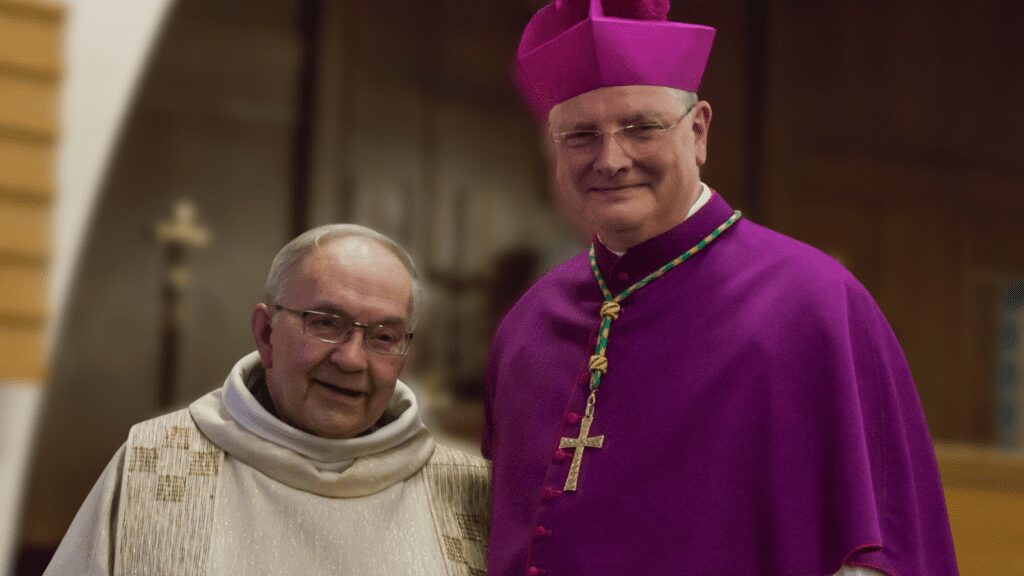 Please keep in your prayers Fr John Morrison (pictured above left with Archbishop Leo) who died on 20 April. His Requiem Mass will be celebrated at midday on Thursday 5 May at St Margaret Mary Church, 8 Boswall Parkway,Granton, EH5 2JQ, followed by interment at Mount Vernon Cemetery at around 1:00pm. May he rest in peace. Read more here.
Season of Confirmations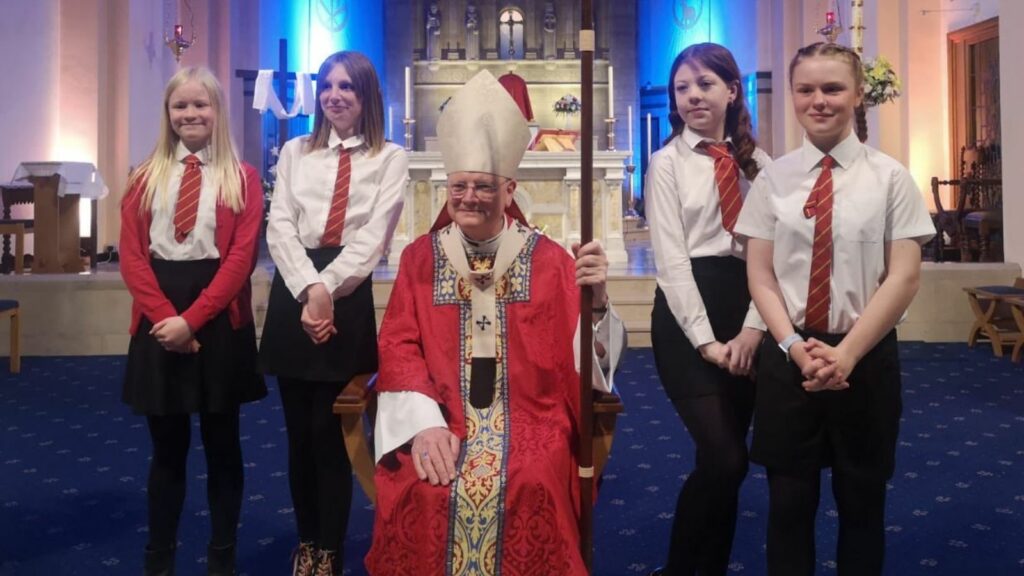 The season of Confirmations has begun. Please keep all the children receiving the Sacrament in your prayers. Above, pupils from Holy Name Primary, Oakley, with Archbishop Leo at St Margaret's Church in Dunfermline).
Annual Day for Altar Servers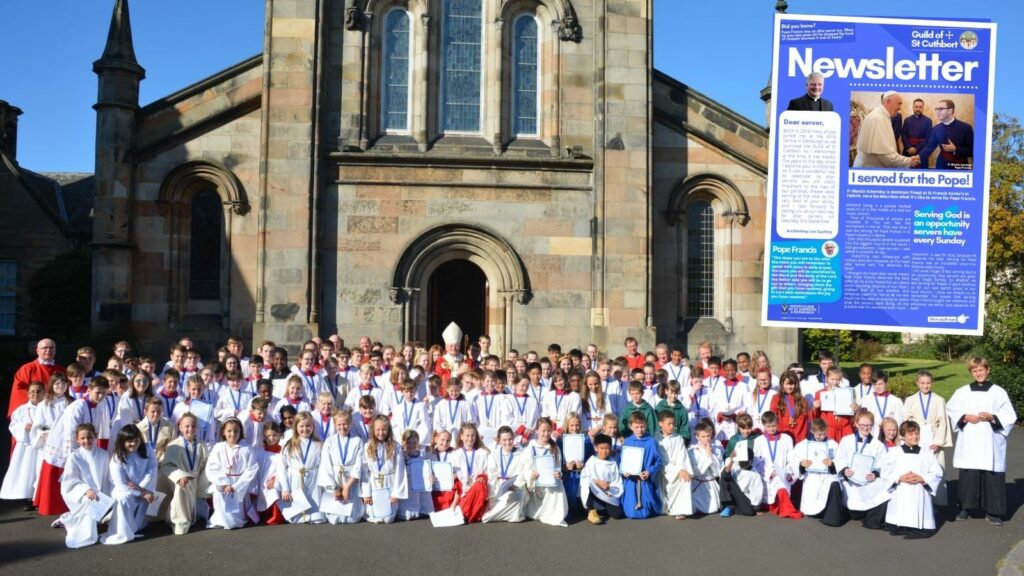 A day for altar servers takes place at the Gillis Centre in Edinburgh on Saturday 3 September. We're asking parishes to encourage servers to attend and become members of our Guild of St Cuthbert! Check out our newsletter for altar servers here.
Declaration of Friendship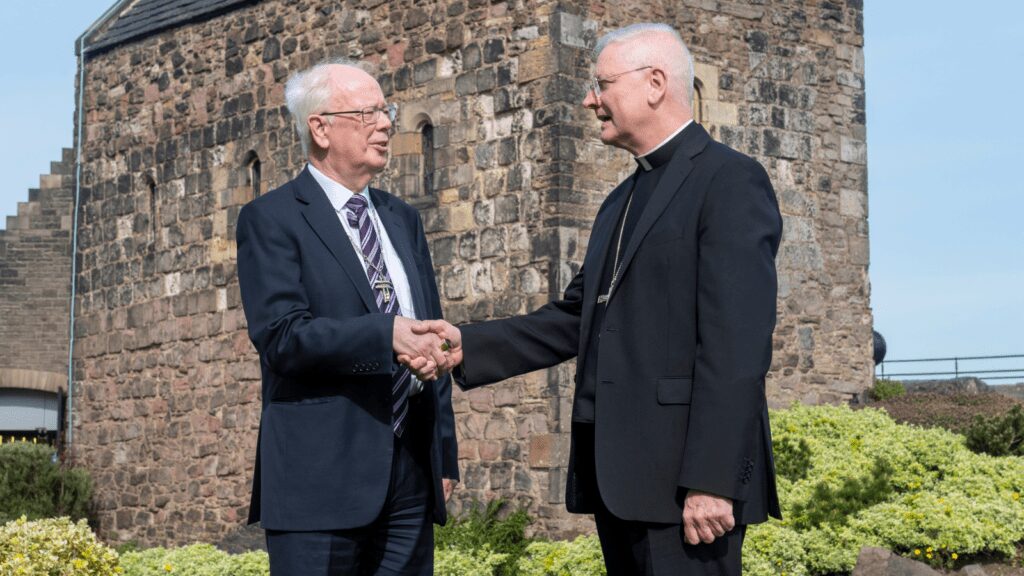 An historic declaration of friendship has been signed by the Church of Scotland and the Catholic Church. Archbishop Leo met with Lord Jim Wallace, Moderator of the General Assembly of the Church of Scotland at Edinburgh Castle to present it. Read more here.
Vacancies: National Safeguarding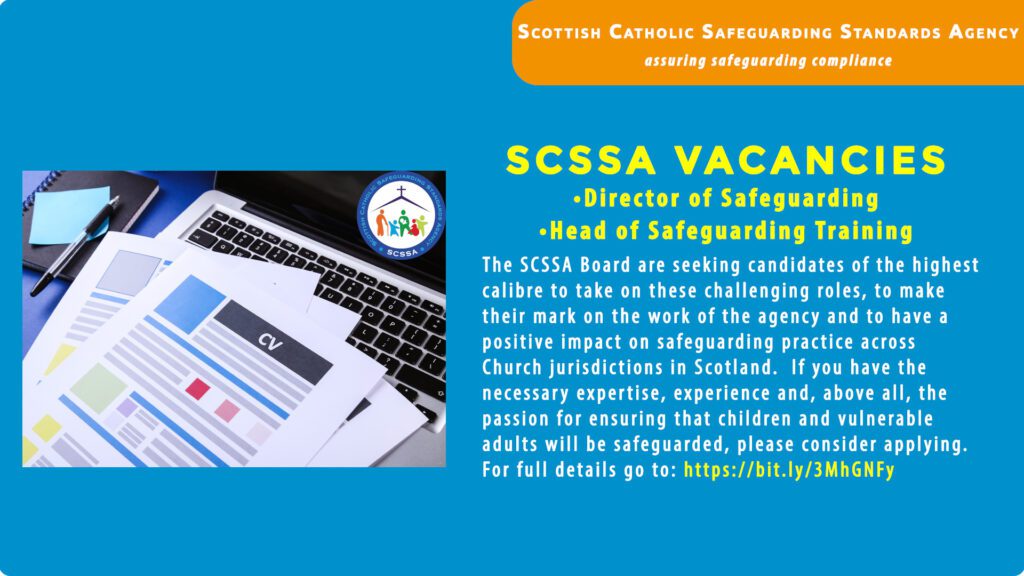 The Scottish Catholic Safeguarding Standards Agency is looking to recruit a Director of Safeguarding and a Head of Safeguarding Training. Closing date for applications is 20 May. Details here.
40 Hours' Devotion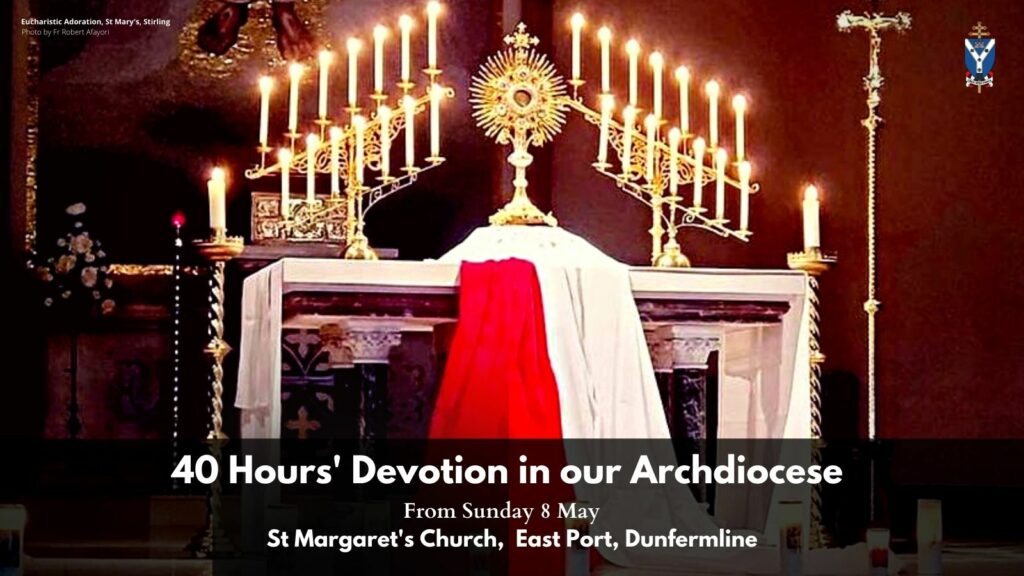 Each parish in the Archdiocese is having 40 hours of Exposition of the Blessed Sacrament to help renew our Faith and love of Jesus Christ. It continues at St Margaret's Parish in Dunfermline from 8 May. Find out more about Eucharistic Adoration in our video series here.
Pro-Life Chain in Edinburgh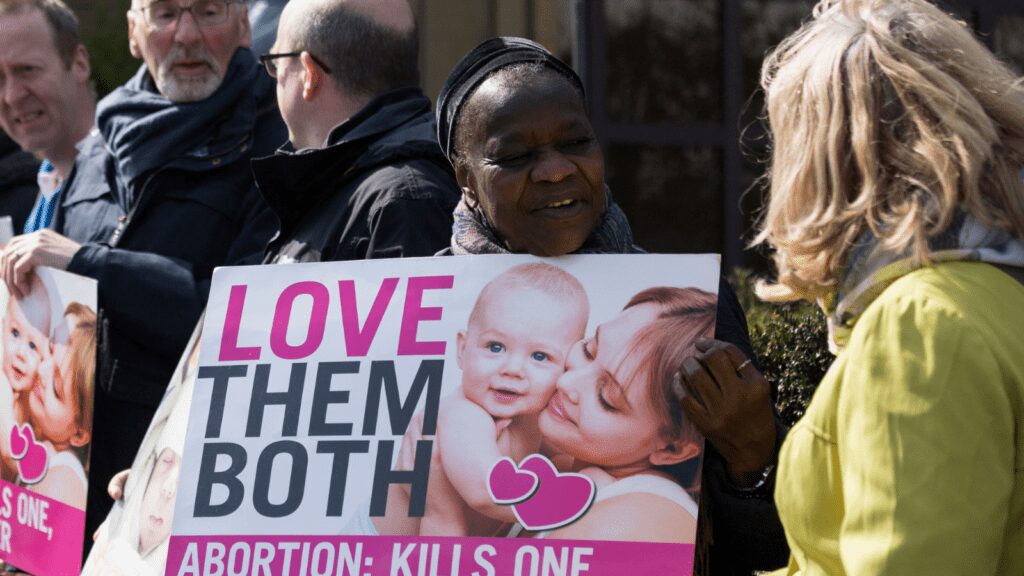 'Love them both' was the message at the annual pro-life chain in Lothian Road in Edinburgh recently. Thanks to all who turned up to support this event in a peaceful and prayerful manner. Read more here.